Overview
Checkfront aims to be a booking and reservation system not just for physical products, but also for accomodations, appointments, tours, and activities. They have an extensive integration center as well so you can integrate with Tripadvisor, Zoho, Google Drive, and lots of other services. Where Checkfront suffers though is with their their online store "site builder." It is so poorly designed and laid out that we have a hard time recommending Checkfront. However if you don't mind integrating Checkfront to your existing website or don't need a website at all you might look into using it. Though Checkfront does allow renting out physical products, we would not recommend it for these type of rental companies. The issues are that there is no serial item by item tracking, and no management of check out and check in for things like late returns or tracking to make sure all items were returned.
Things We Like
Can handle many types of bookings (rentals, tours, activities, appointments)
Powerful pricing rules covering a wide range of potential situations like seasonal discounts
Good variety of reports with useful data
iOS app worked well
Great integration selection for third party services (Zoho, Quickbooks, Mailchimp, etc.)
Unique features like Multi-language support and Commissions for bookings partners
Has excellent demo / help content so that you are not lost when navigating the product edit page
Things We Don't Like
Online Store "Site Builder" is very limited in what it can do, the theme design is poor, and the checkout process is awkward. There is no "my account" section after ordering.
No real check out and check in processing for physical rental type stores meaning it will be difficult to track inventory going out and coming in for things like late returns or missing items.
No support for by item serials / barcodes (for tracking individual items of inventory)
Poor admin menu design and the user interface is dated and not pleasant
API access is only available on Enterprise plan which does not list the pricing but we do know it is more than $199/month
No clear pricing is shown about how much it cost after 6,000 bookings requires contacting them
No way to offer "for sale" type products it seems to only handle bookings many rental stores also have a few products for sale
Dashboard and Menu
Here is a look at the welcome dashboard. It is nice that they immediately offer one on one setup help. The overall look is "lots of blue" we found the menu organization a bit confusing and dated. For example create a booking is buried in the Booking Menu halfway down "create booking" it takes awhile to find. Want to add a product? It's way at the end of the "Inventory" menu, meaning no continuity between menus. There is no effective use of icons or content sectioning either. Why are discounts and pricing rules (called "item events") under "Inventory"? It would be great if the menu could be optimized a bit.
The dashboard does present you with how many bookings you have per day, and a way to filter between new, today, and upcoming bookings.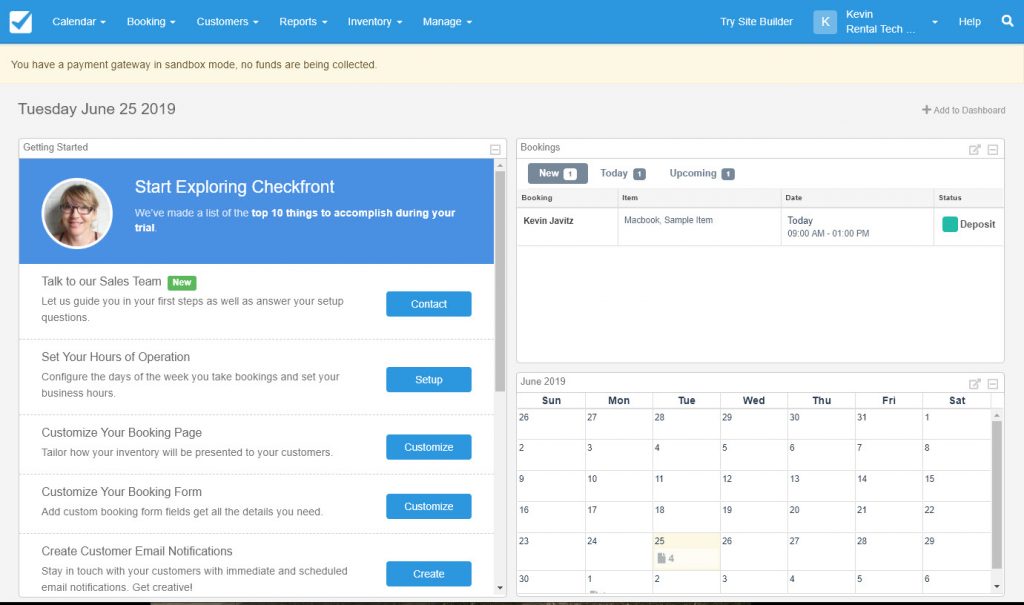 Also there is a way to add additional widgets to the dashboard: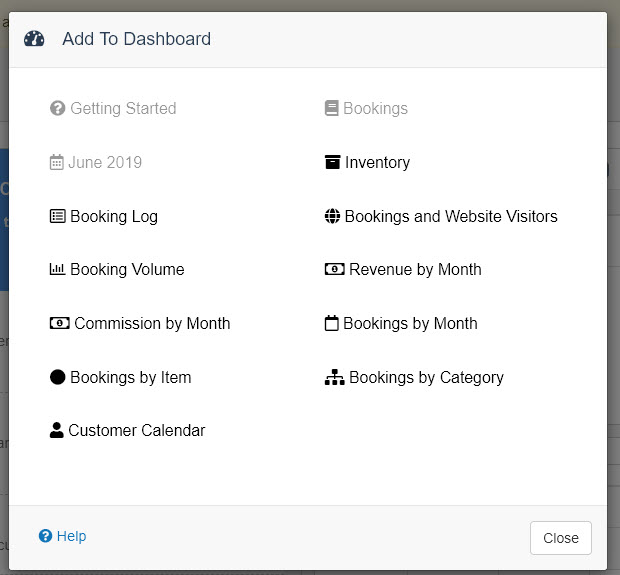 Adding Products
Let's start off then with the obligatory adding products screen. Here is how the first page of adding a product looks: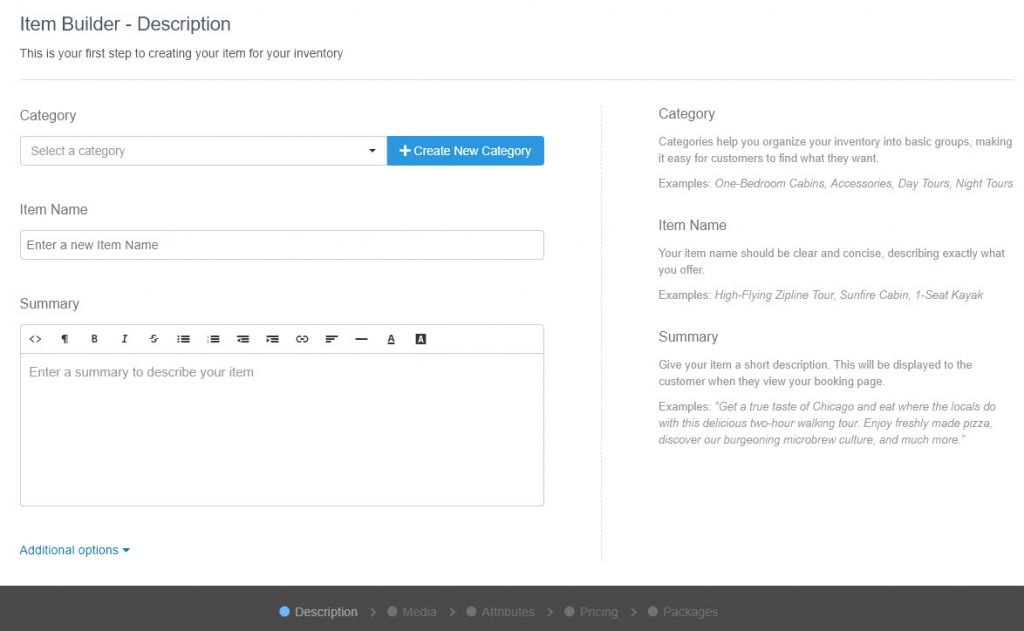 Straightforward and easy to understand. Next page is for media/images: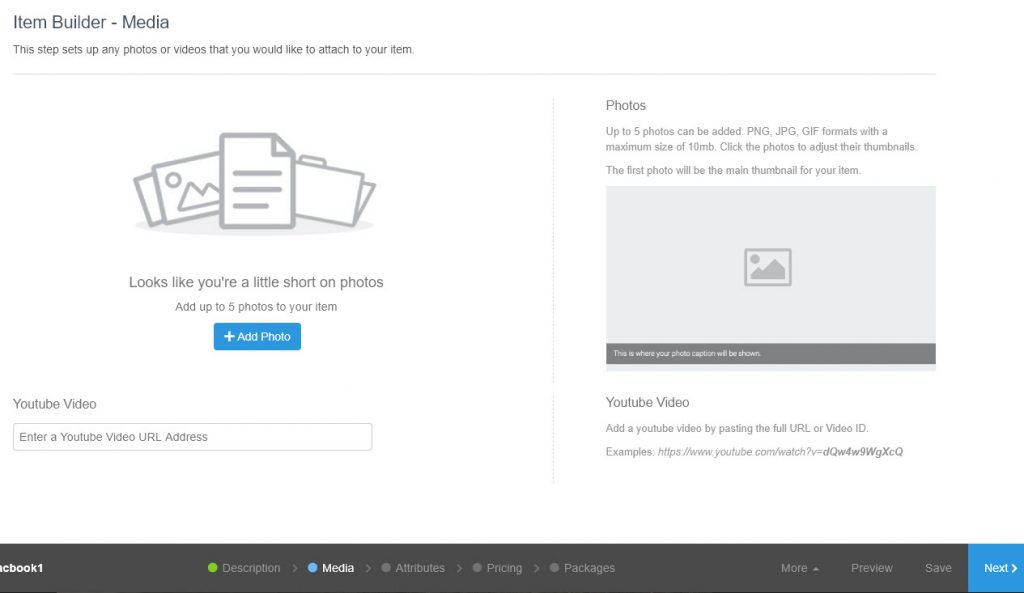 And then choosing the product type on step 3 called "attributes"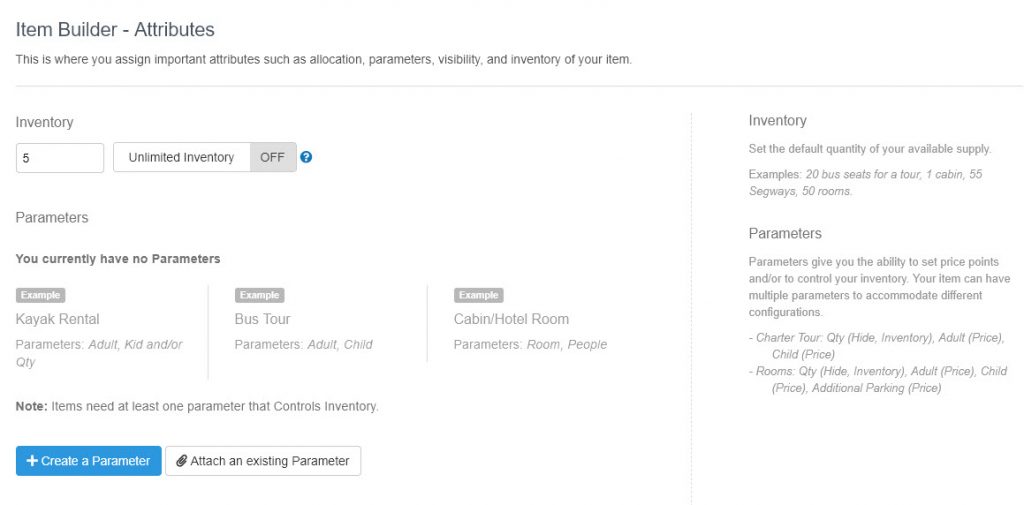 Here is where things can get a bit confusing. If you are adding a normal rental product (not a tour) for example we are adding a Macbook for rent, you'll need to click "attach parameter" button and in the popup choose qty for the unit keeping unit:
And below it you select the way you track inventory, this is a bit less confusing and has good icons and descriptive text on the right: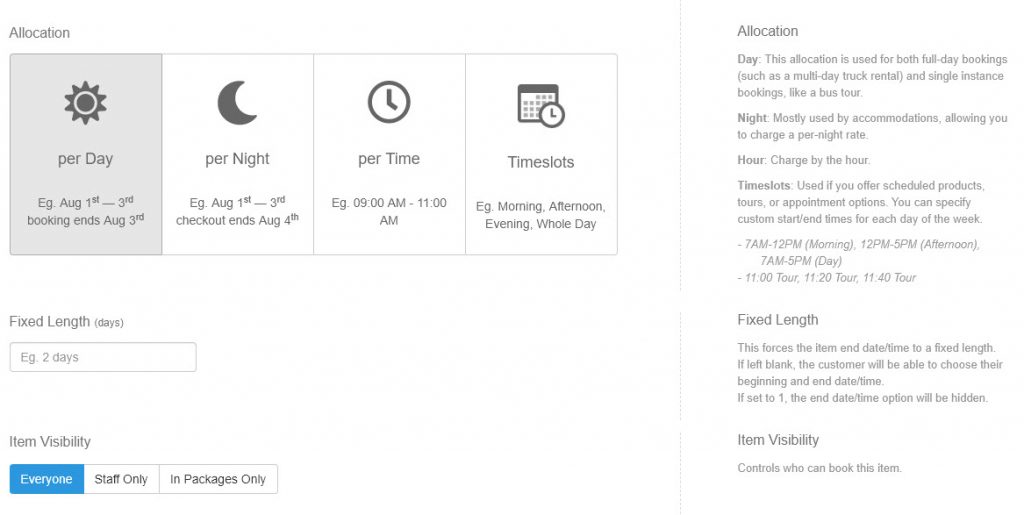 Product Pricing
The product pricing page looks like this:
What was a bit surprising to us is there is no built-in tier pricing on this page. In order to do something like have a price for 1 week or 1 month you have to use rules. Here is their help guide on this subject: https://support.checkfront.com/hc/en-us/articles/115004912594-Tiered-Pricing-Structure the bad news is it's a few steps, but the good news is that you can apply the rule to all of your products at once so say your weekly price is a 20% off per day applied, then you can just make one rule and apply it to all products saving you lots of time.
What is on this page though is quite powerful calculation rules that can be used for lots of setups and should cover most hotels or rental stores pricing rule needs.
Creating An Order
Here is how the order creation process looks, first you choose the products from your products categories and dates: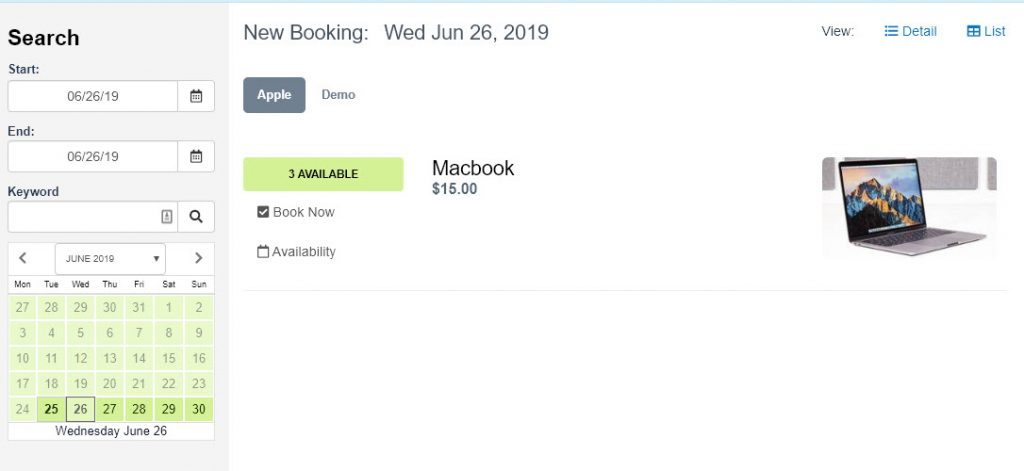 Next you are presented with a page to enter the customer information: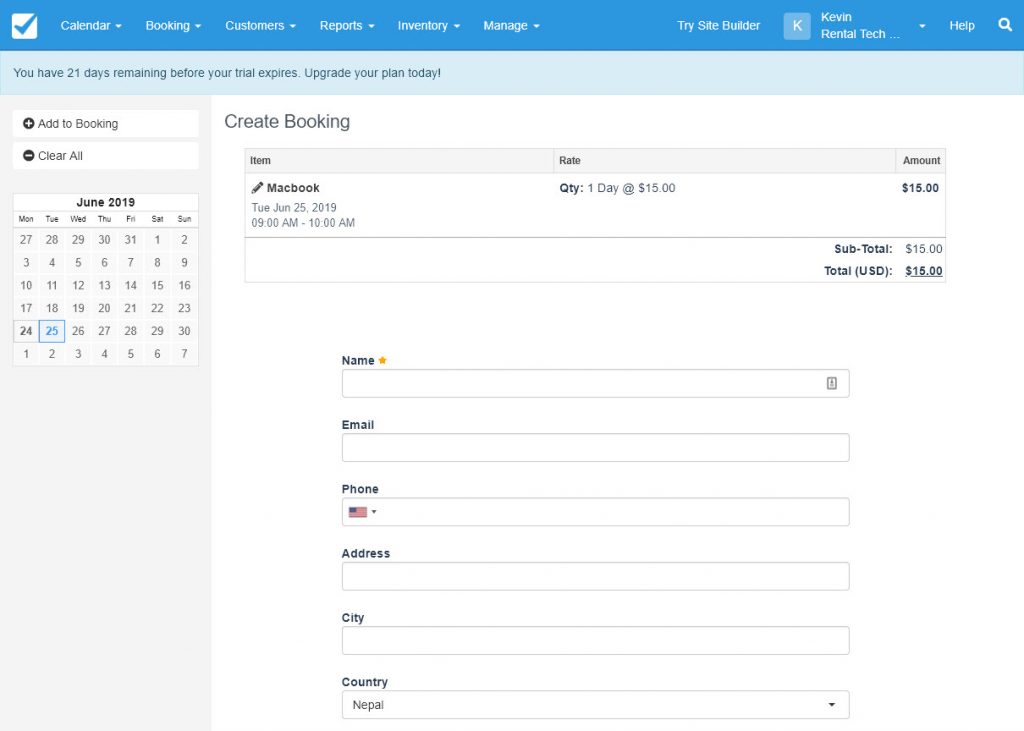 And then a page that looks like an invoice where you can add payments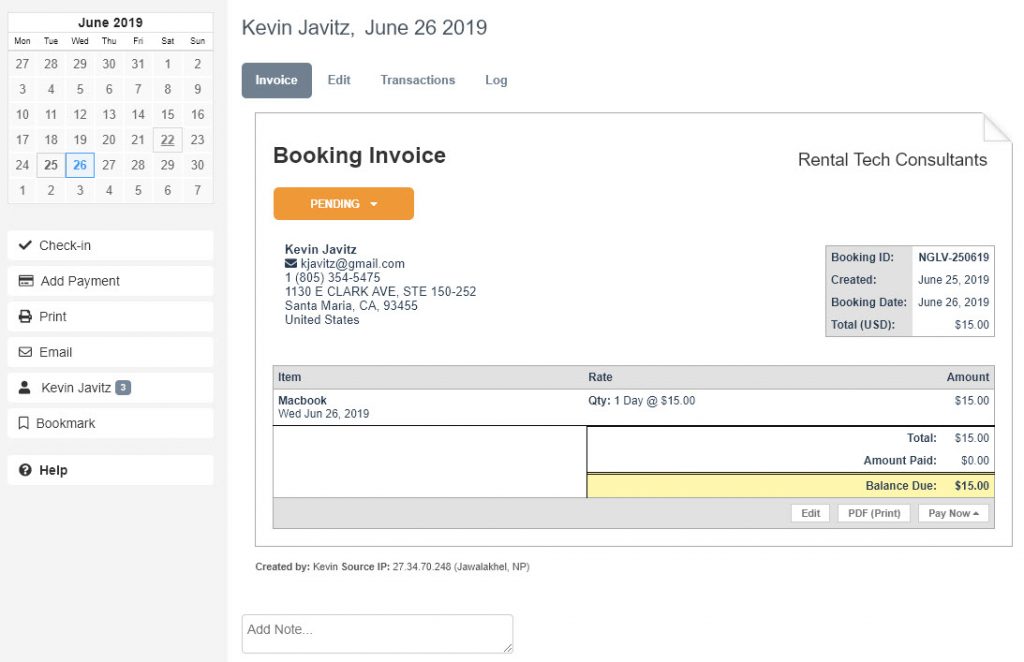 The order creation process was easy enough to use, though it would be nice if it could be self-contained and not require using multiple pages.
Barcodes / Serials
Checkfront does not support this feature, meaning if you are rental store that needs to track individual items (for example a car rental store with 10 of the same car and each needs to have maintenance records or individual tracking) you will need to look elsewhere
Online Store "Site Builder"
Checkfront includes as part of the base package a Customer Booking Page. This is not a full fledged website by any means and is meant more or integrating to third party website building systems. In order to get a real online store they offer a "Site Builder" for $29/month, let's see how it works and if your online rental store could run the whole website from this solution.
First you are walked through a way to setup your store details (onboarding). It was just a few questions, one thing that didn't work too well was selecting the store hours, the hour picker didn't work so I skipped it, when clicking up and down it did nothing: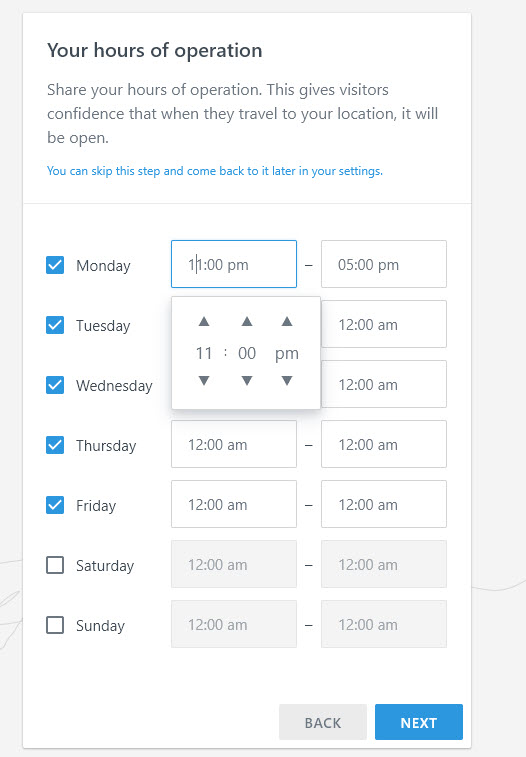 Next you are given a few templates to pick from, on the surface level they looked ok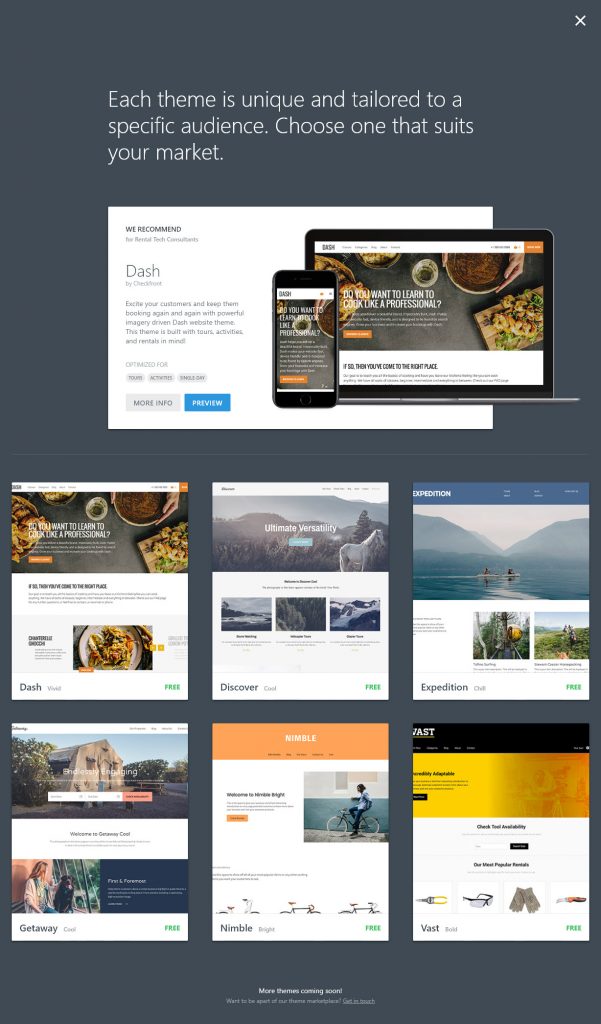 After that you are taken to a place to edit your homepage or other site pages. The editor is quite limited in what you can do. You can't add your own blocks where you want, nor can you even add images to pages! I was quite disappointed with the flexibility of the site editor. For example there was for some reason an "event date" bar at the top of the category pages which I didn't want, but it could not be removed:

When adding an about us site content you basically just can add text and format it a bit, but that is it, no images or anything like that: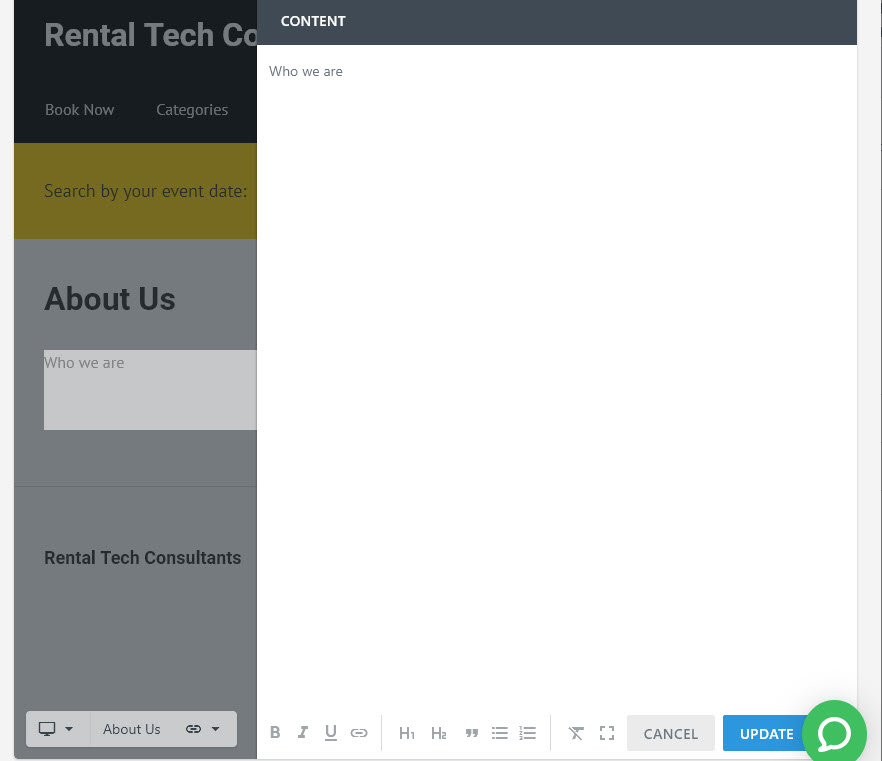 Now onto how the checkout process works. Here is how the product page is presented: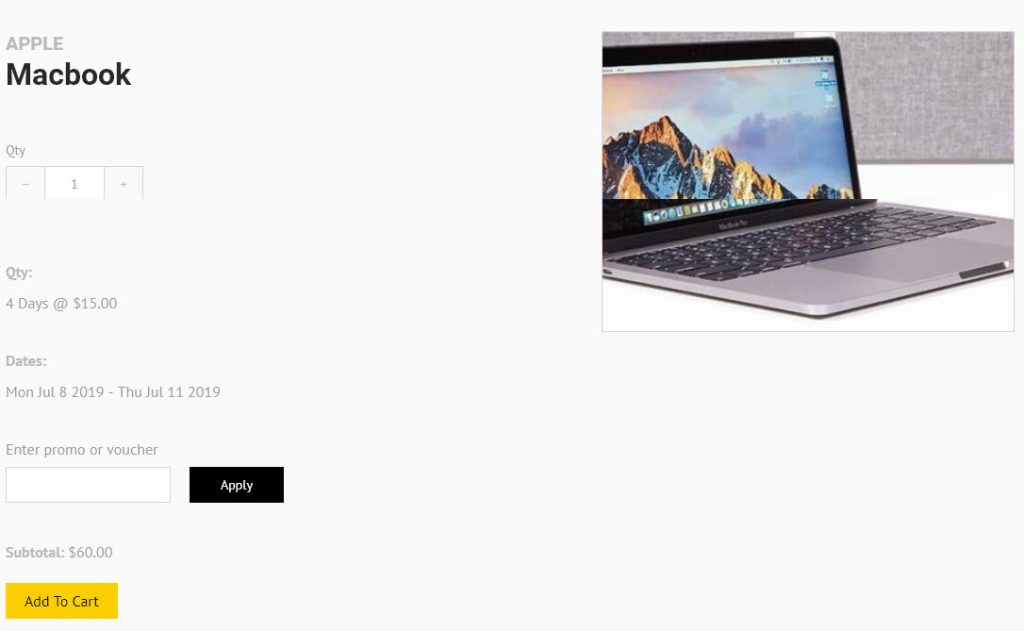 It does not look good to us, it has awkward spacing gaps, image way to the right, and add to cart button is too far down. It also seems strange to have coupon entry here rather than on the checkout page.
When viewing the cart and clicking "continue checkout" it almost seems like nothing happens, however actually it is showing a form below the list of products that may be hidden if you don't have a tall monitor: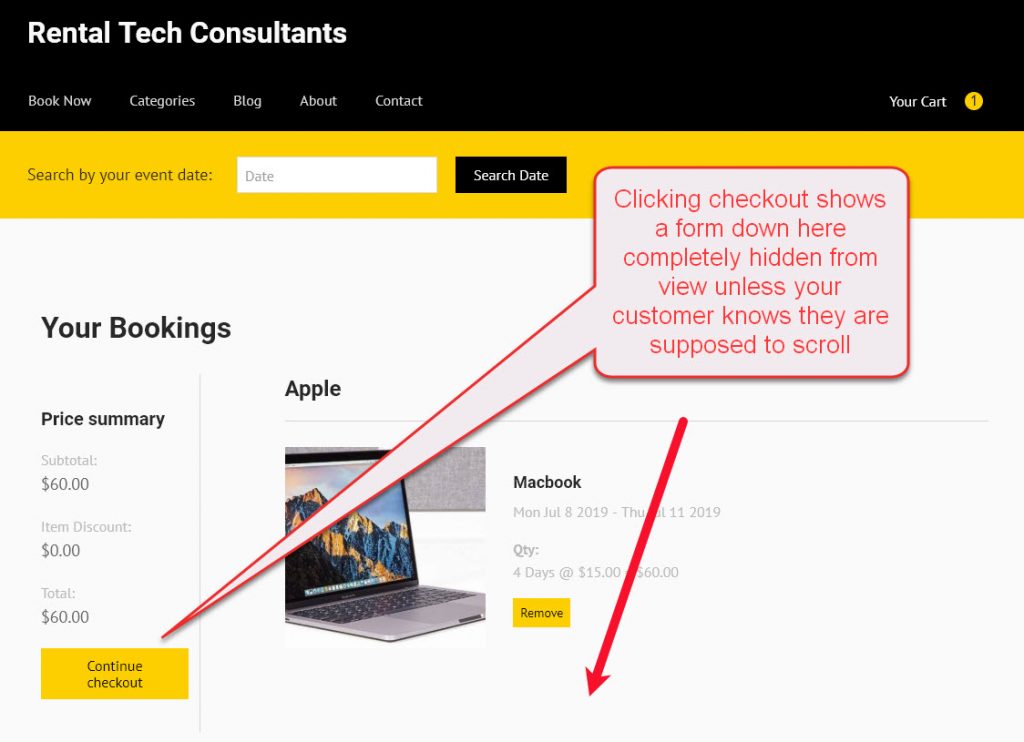 The next page of checkout looks like this: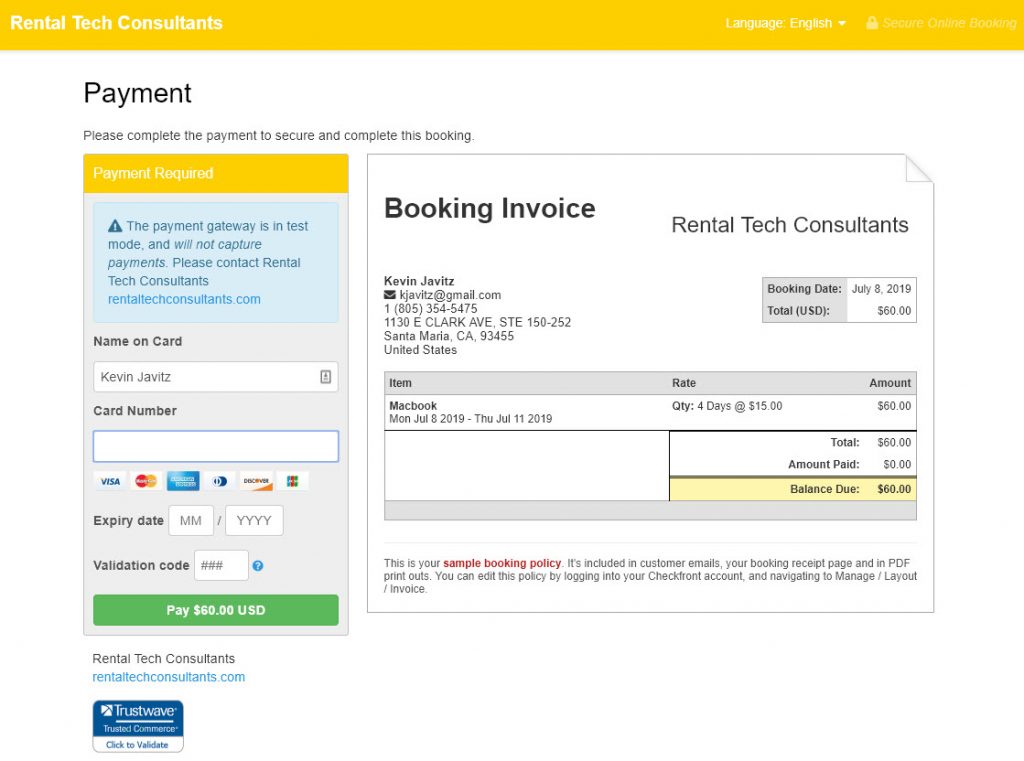 Now is it just us or does it look like you've left the original website? We assume they chose this strange layout to avoid customers clicking menu links and stopping checkout, or because usually Checkfront is integrated to a third party website builder so they didn't want header and footers. In either case, we don't like it and we think it could confuse people having this awkward "let's pay an invoice on a third party system" rather than a typical website checkout process.
We hate to be so negative about Checkfront's site builder, but these seem like very obvious issues.
Reports
There are a lot of good reports available in Checkfront, more than other rental software systems that we have reviewed. Some of what we would usually think of as reports are found under their "Booking" menu. These are great since you can easily drill down by day, customer, or product and see what has been reserved.
Booking > Daily List looks like this: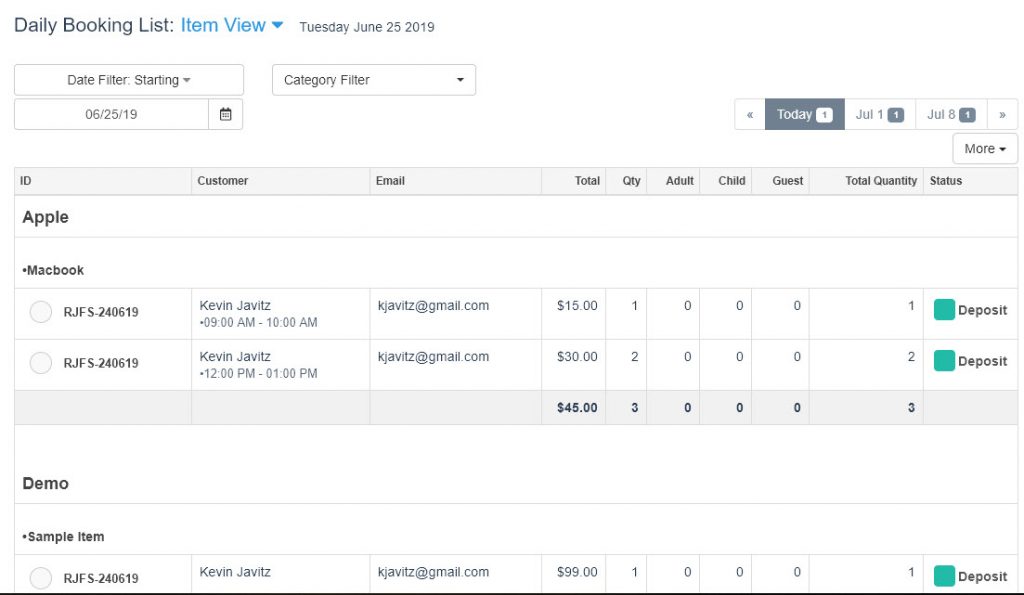 Booking > Daily Summary: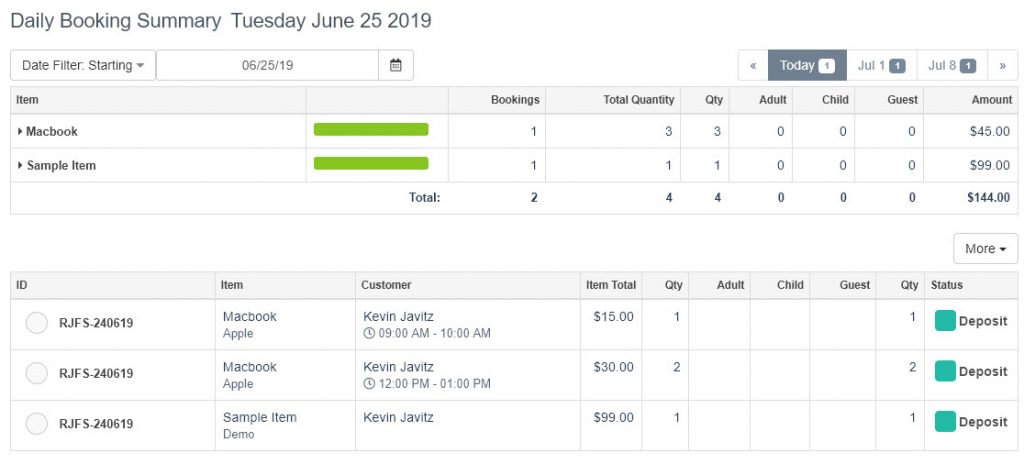 The all important inventory report is well presented and has the needed filters: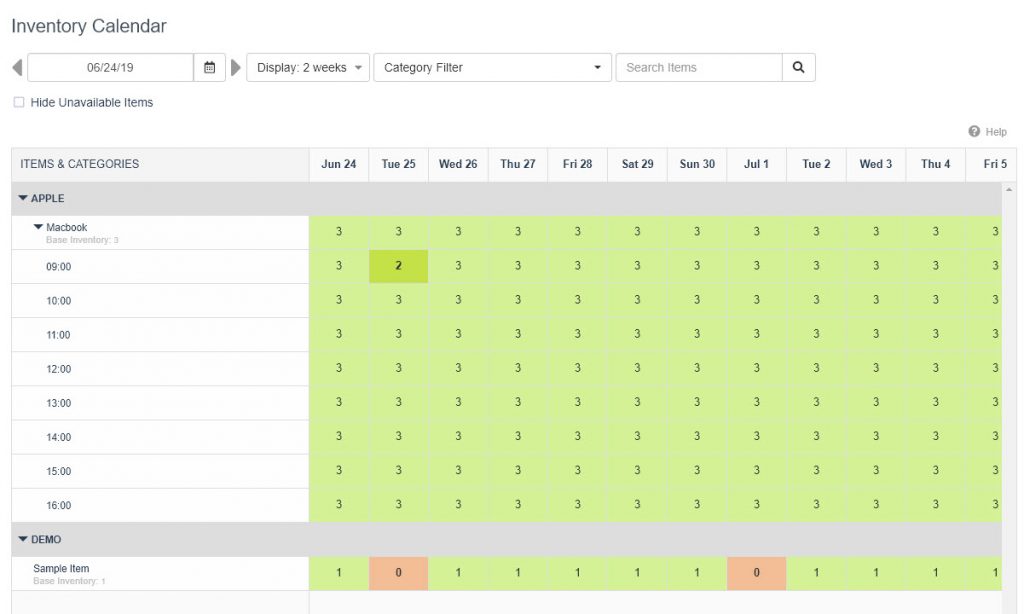 Other reports include an interesting traffic visualization: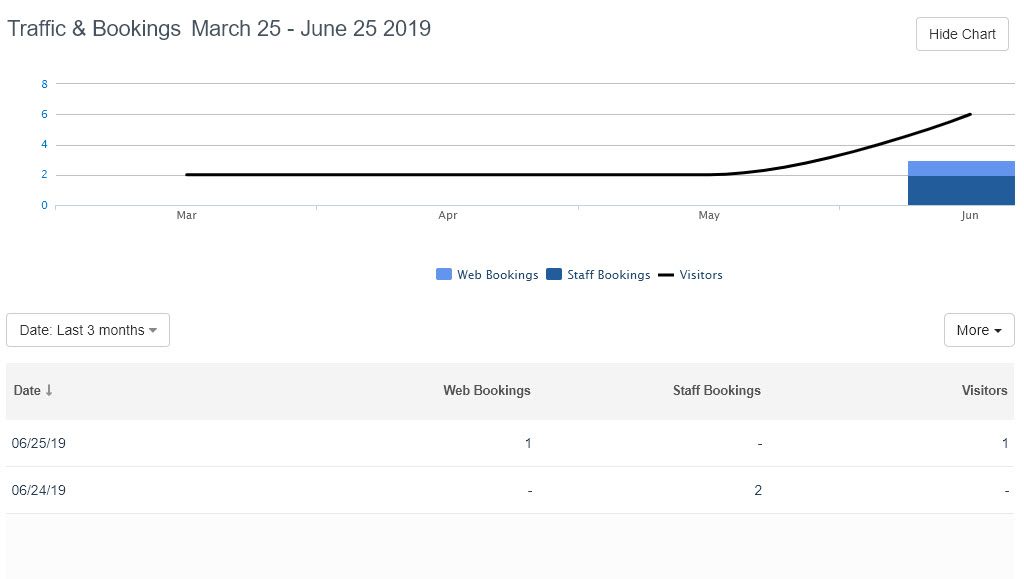 Revenue report: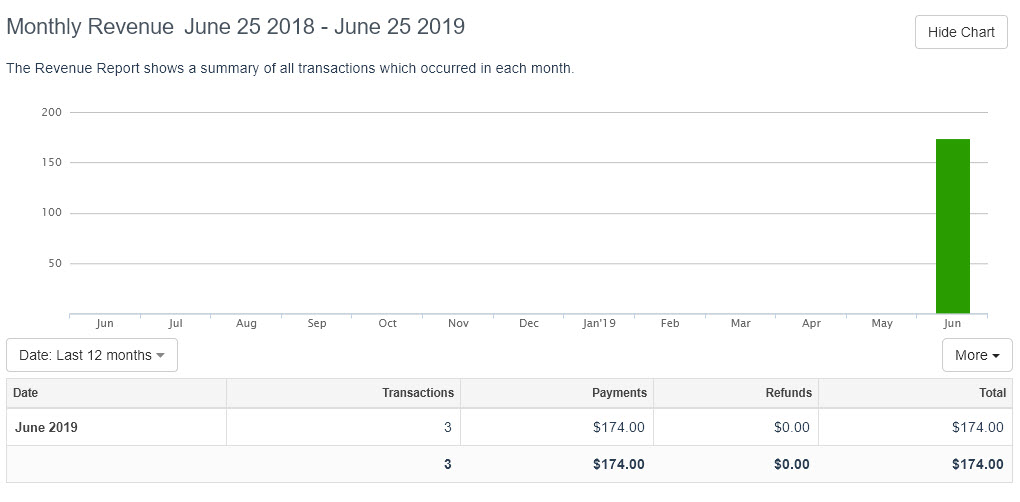 Sales report:

Cashout report: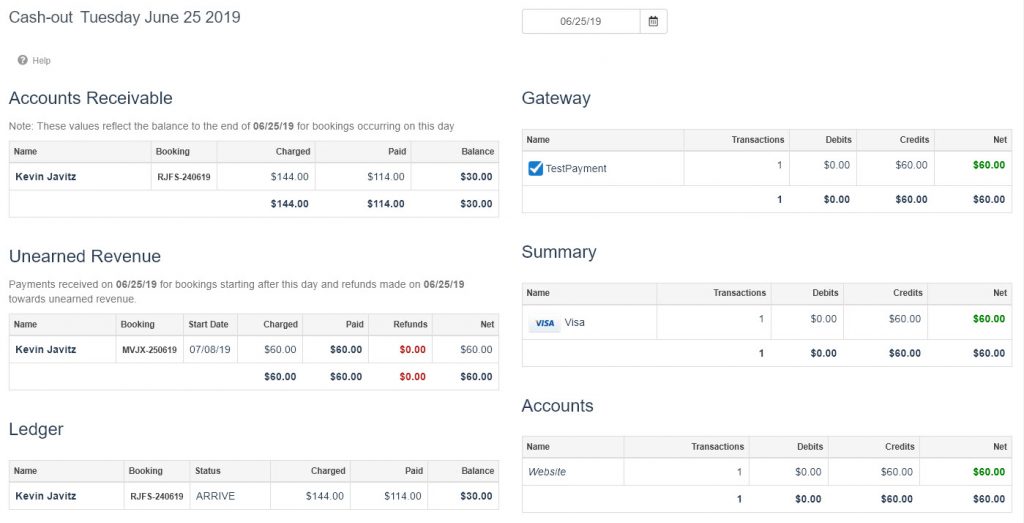 and activity log: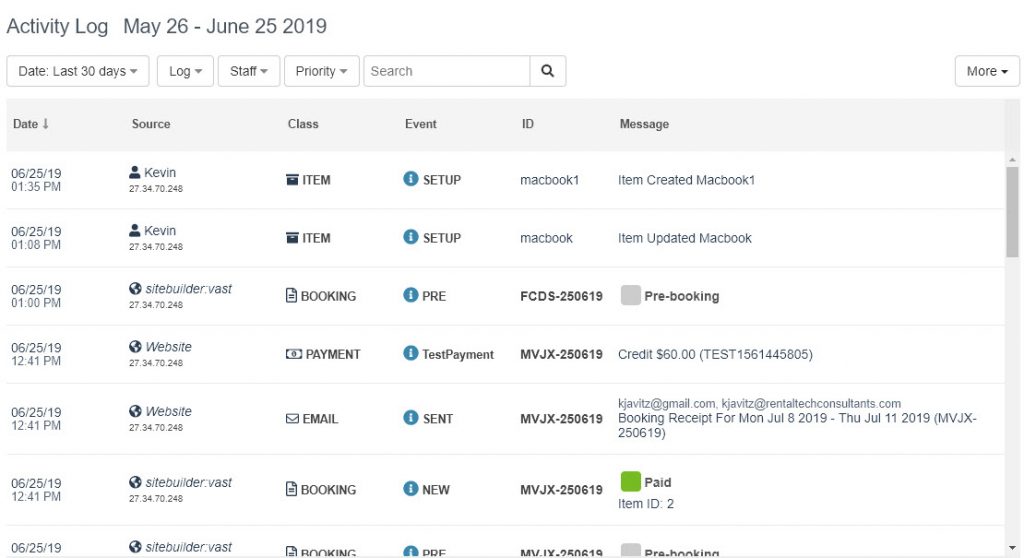 Unique Features
Languages
It was refreshing to see that Checkfront offers multiple languages available for the customer side website and booking form, this is a rare feature not seen in many online rental booking systems. I was able to enable Spanish under Manage > Languages.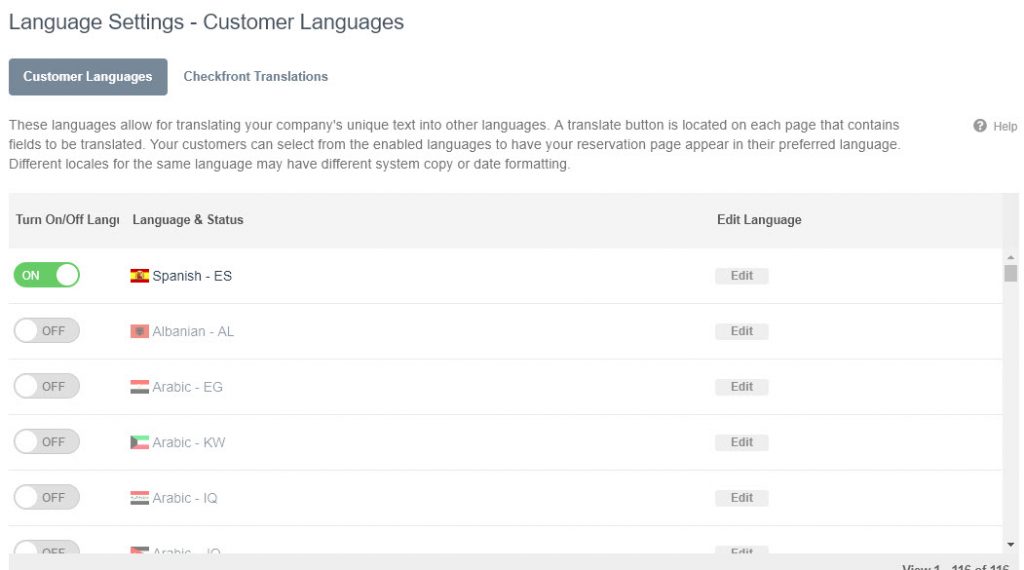 After that I could easily select "Spanish" from the language drop down on the customer side booking form.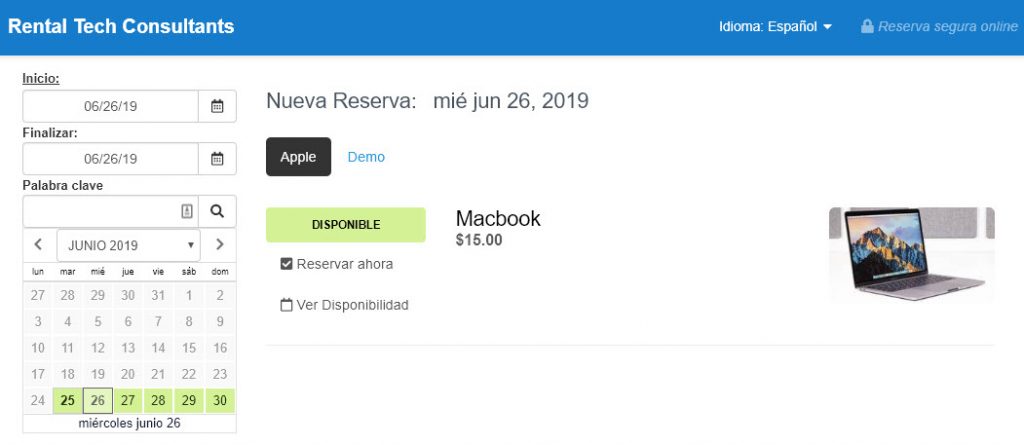 Mobile Apps (iOS / Android)
We were able to give a quick test drive to the iOS app and here is how the home screen looks:
You can view orders filtered in different ways, create a new booking, or scan QR codes to pull up orders that way too which is a nice feature. Here is how the view order page looks:
And the create new order page (which has screens for adding bookings with calendars and inventory checks). The app seemed to run smoothly with no glitches.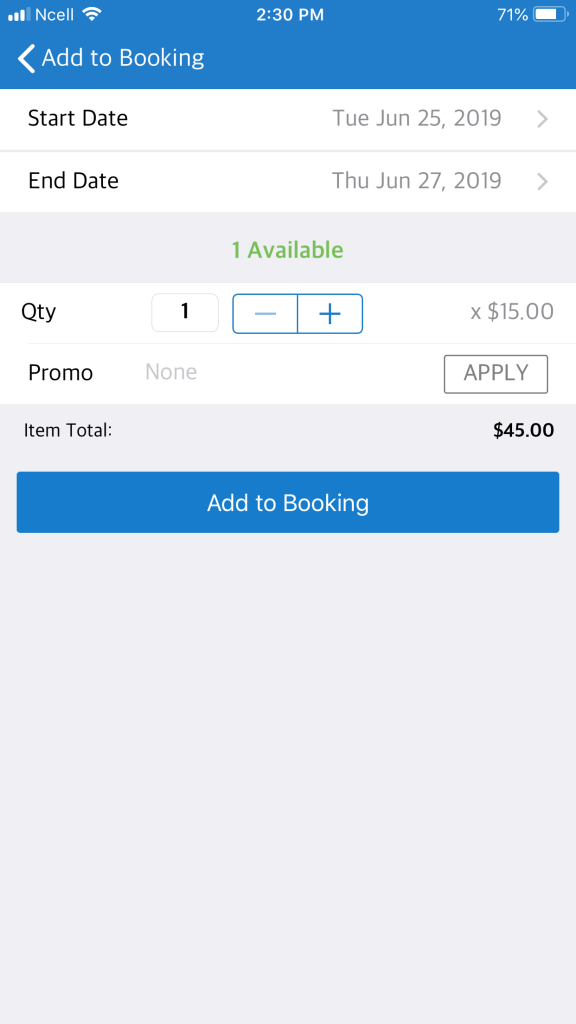 Documentation
Very extensive documentation is available, and is built-in to the admin panel as well so that you have tooltip popups or explainer text before you get confused.
Support
Chat and Ticket based support is included with your subscription.