Overview
Booqable is a simple Rental Software but in a good way. You can get a good feel for Booqable after using it for only an hour and setup your rental products and custom fields. The admin interface is beautifully designed and runs AMAZINGLY fast. Booqable supports barcodes, custom fields, complex pricing structures, and a fast pickup and return process. The pricing is affordable enough that most rental businesses can use it.
Things We Like
User Interface is superb
Easy to use pricing templates which speeds up entering pricing data
Best product inventory report we have seen (they call it calendar)
Pricing is reasonable
Good handling of order payments, deposits, and security deposits
Has lots of third party integration options if you want to integrate to your own website
Handles adding orders beautifully and smoothly
Runs the fastest of any rental software we've tested
Things We Don't Like
The online store is lacking in basic features such as adding a menu, shipping costs, product categories, and pages meaning it is almost impossible to use as a standalone website (you'll need to integrate to your own)
Only 1 report
No support for product bundles
No automated emails for sending an email X time before an order is to be returned or things like that for late returns, return reminders, or similar.
A few features are missing such as truck routing, multi-location, sub-rentals, purchase orders, and profitability reports/tracking.
Dashboard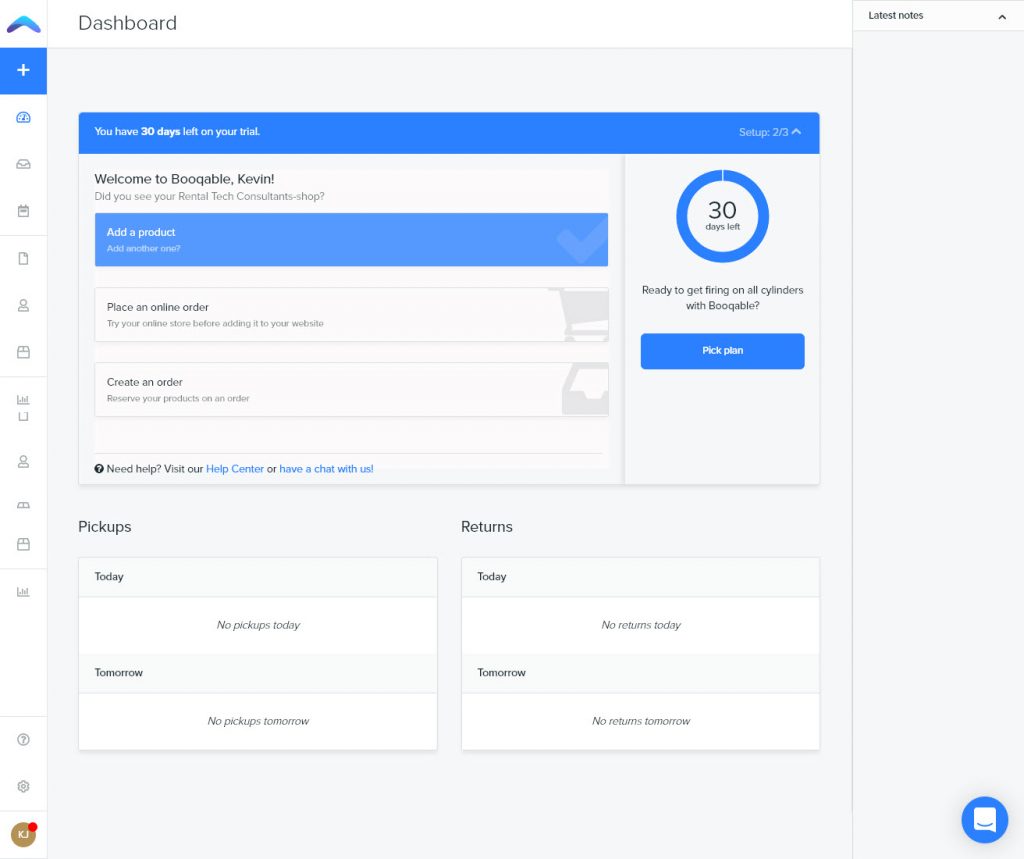 The dashboard is a little bit overly basic in our opinion. It only allows seeing pickups for today or tomorrow and returns for today or tomorrow.
Adding Products
Adding products looks something like this: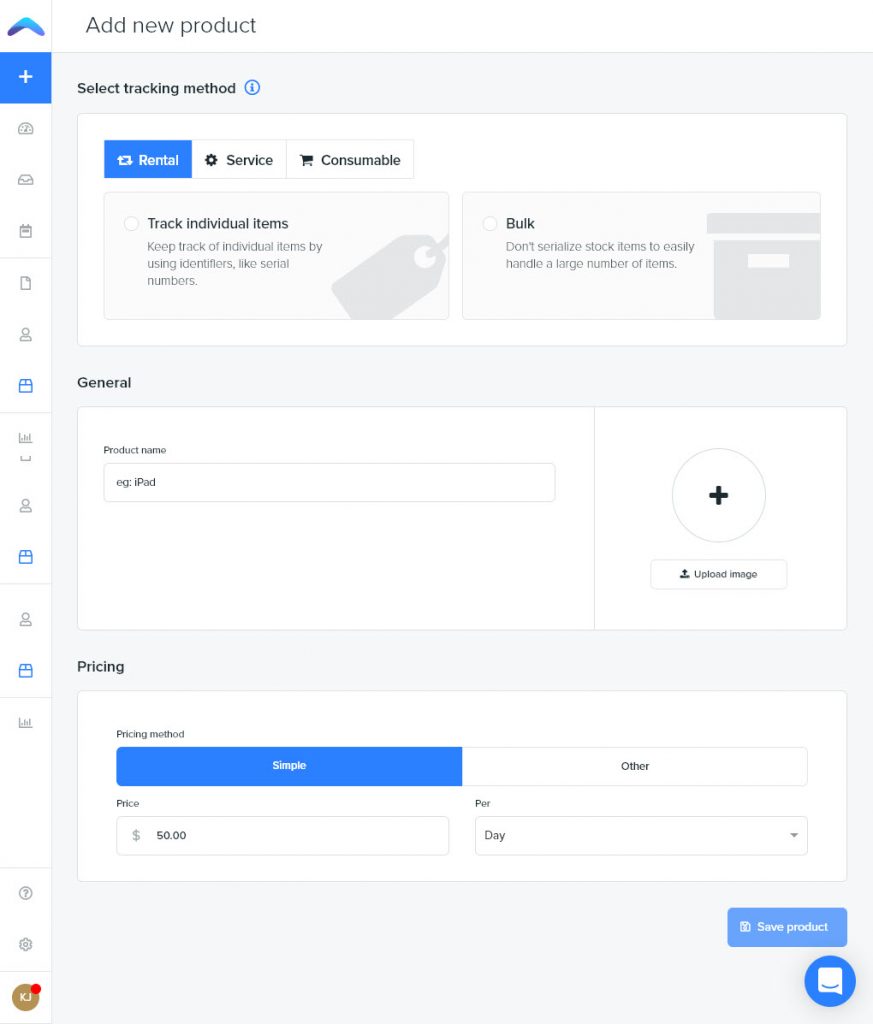 The next page presents the serials so you can adjust each tracking number if you want to, if you are tracking in bulk you will not see this page:
Product Barcodes / Serials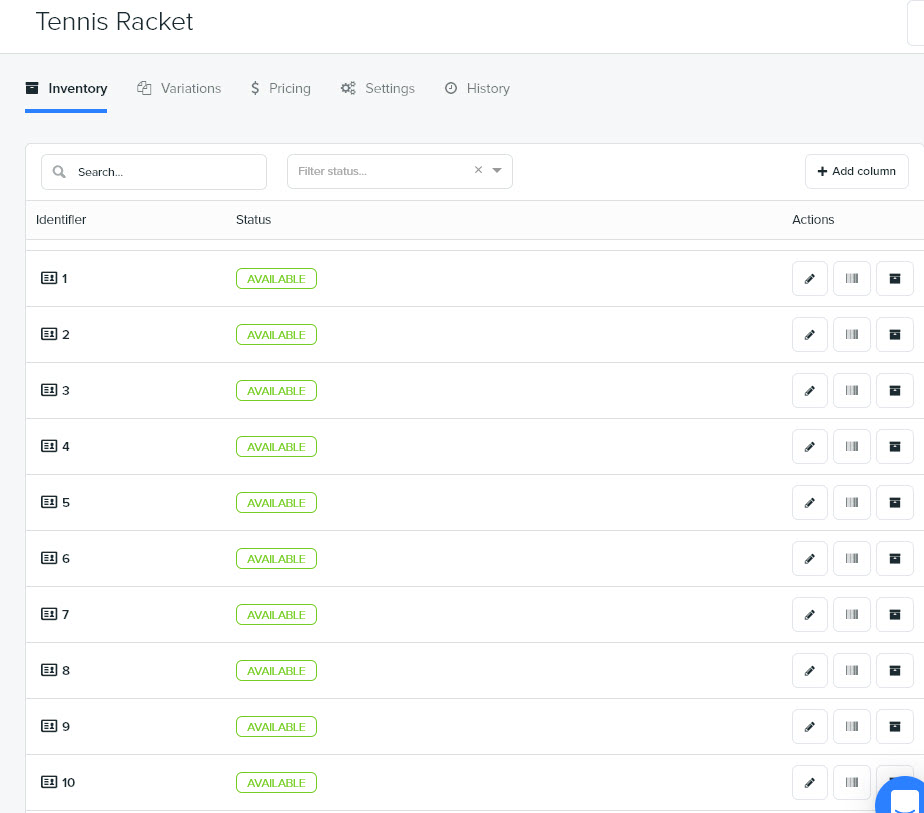 There did not seem to be any way to printout directly from Booqable meaning you will need to use your own label printer.
Product Pricing
The pricing and serialized inventory works excellent. One particular standout feature is the way that you can setup pricing templates. This will allow you to have a base rate for each product and then use a multiplier to get your other time period pricings. It looks like this: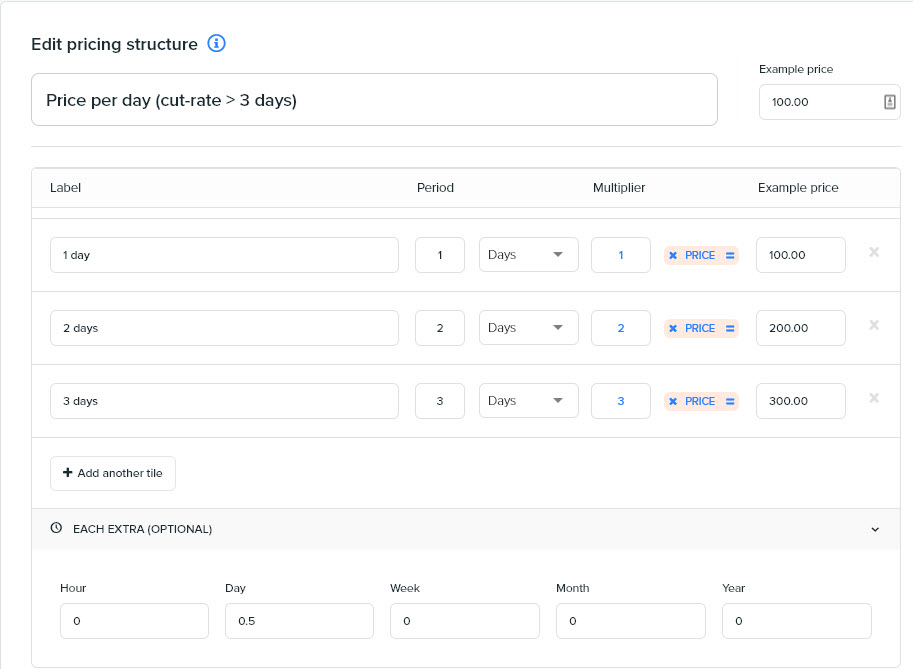 Of course you also have your regular pricing calculation methods too, so don't worry: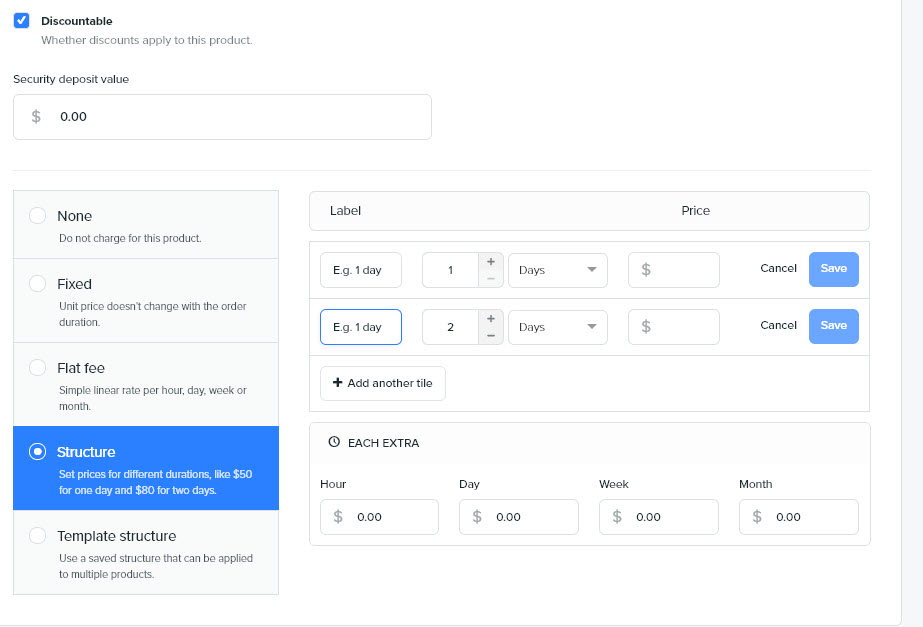 Another particularly nice feature is the before and after padding that can be set for each rental, many rental systems do not offer this feature: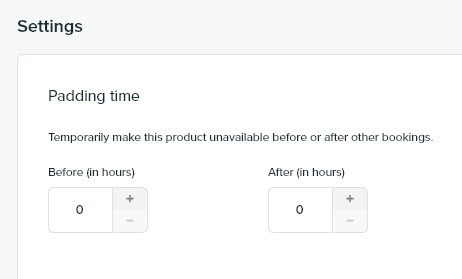 Adding Orders
Adding orders is extremely easy and quick. It runs at Point Of Sale speed for when you have long lines of customers. It also integrates well with any barcode scanners you need to use.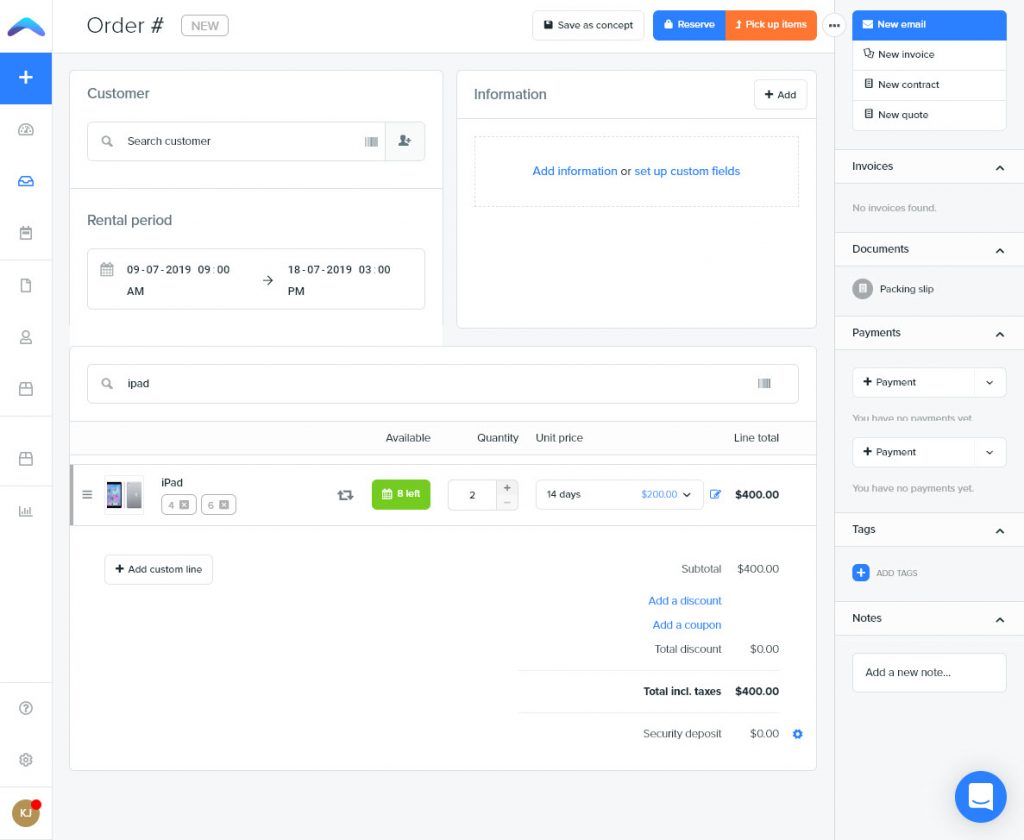 After you add the order you can reserve it, and then click Pick Up so that you can scan out or checkbox the items that are to go out to the customer: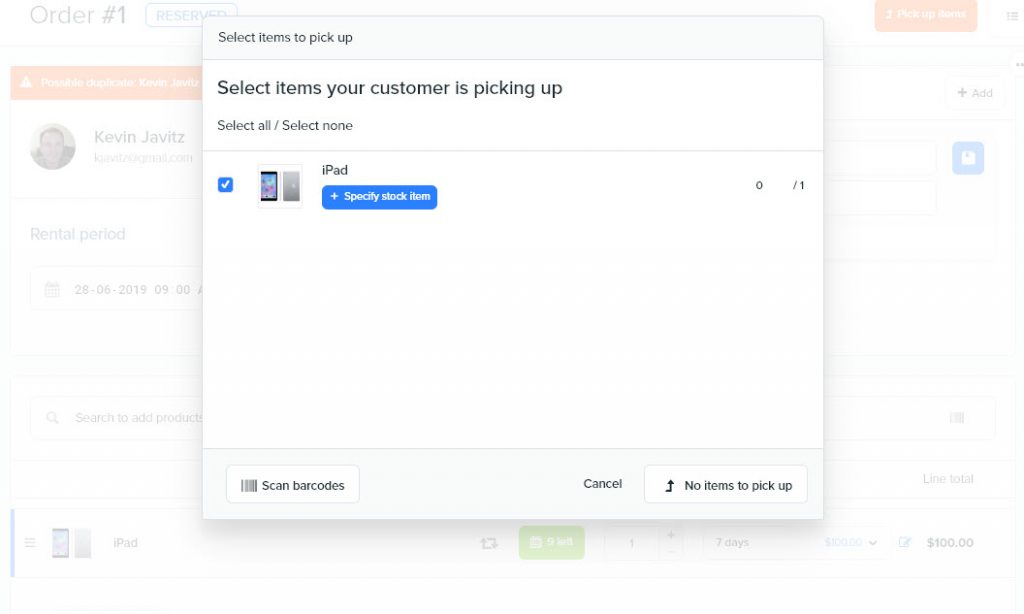 After that the same goes for returning the items back into inventory: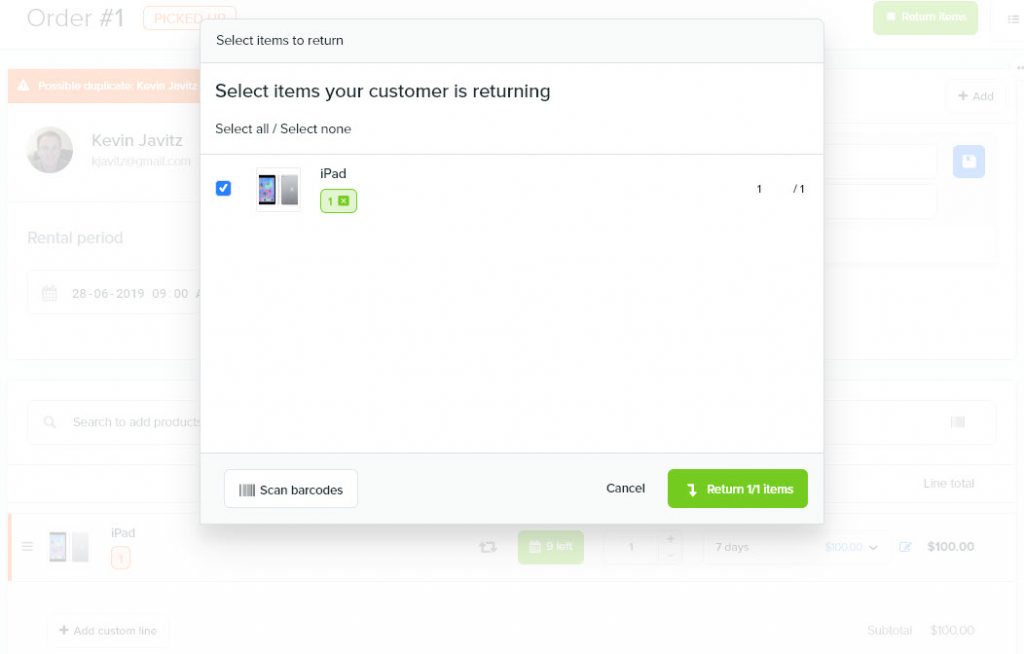 Adding Quotes
Adding quotes presents a nice visual way to see how your customer will see the quote: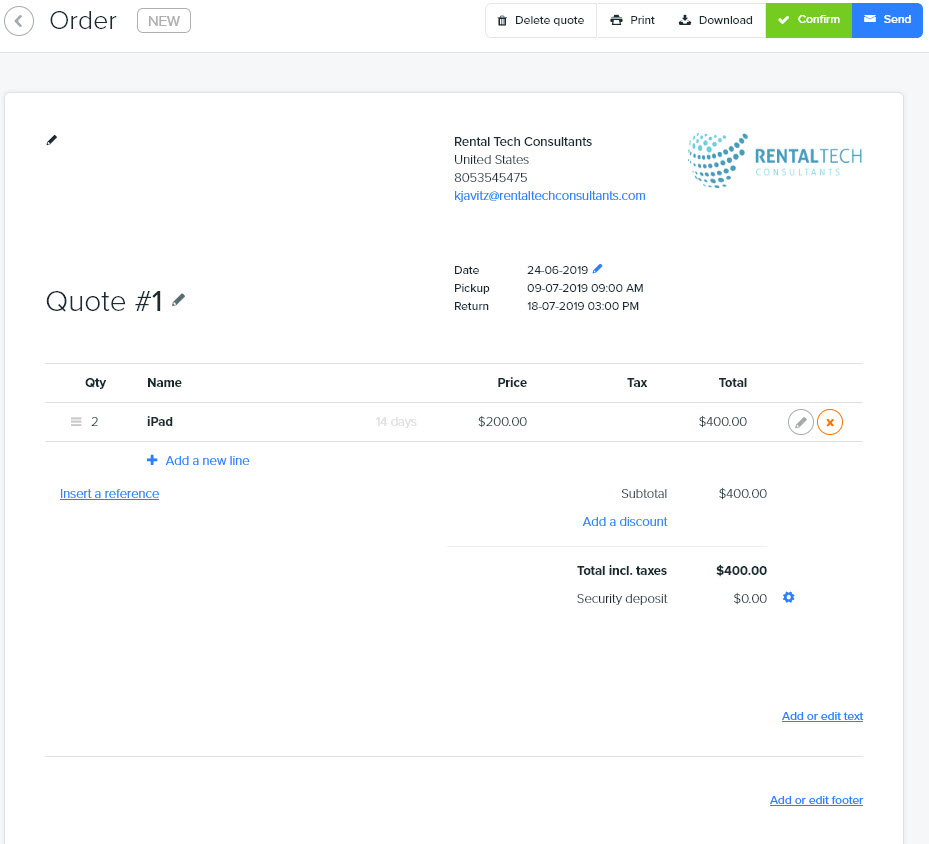 Online Store
The online store is about as bare bones as we have seen in any online rental software. It has no way to set product categories, menus for your store, or add and edit pages. It almost seems as if they assume that you are going to use their embed options for some other platform (WordPress, SquareSpace, Wix, etc.).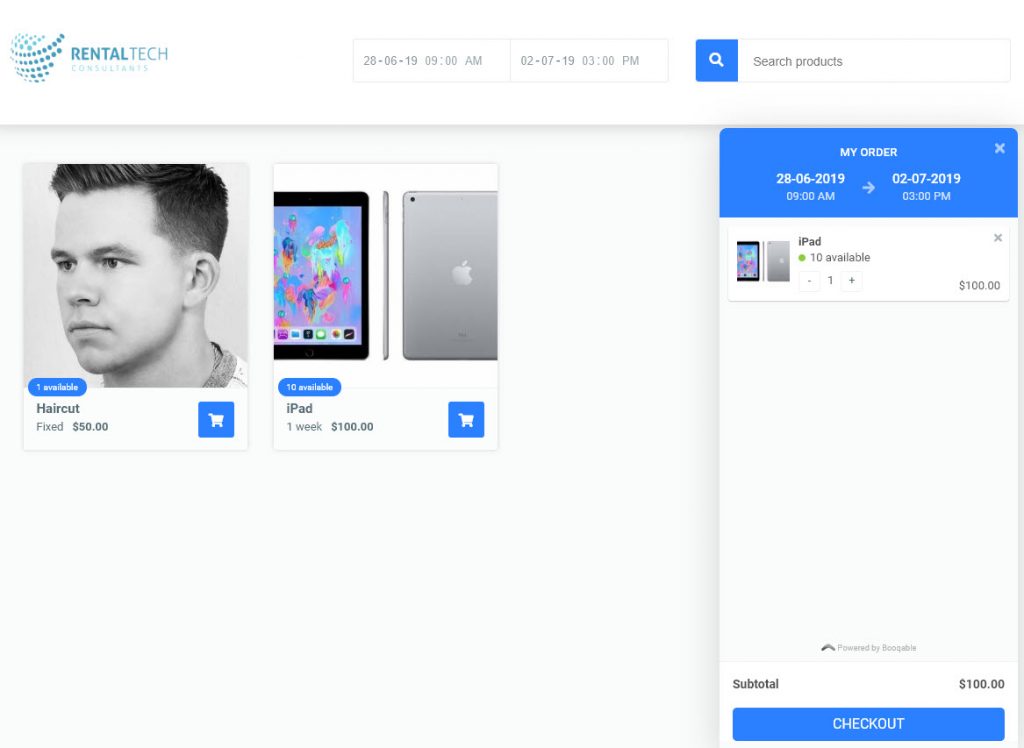 Reports
The reports that are included are great! But on the other side they are only 2! But what if you for example wanted to view your order totals for a certain period of time, your best customers, profitability, or other data? It is not available.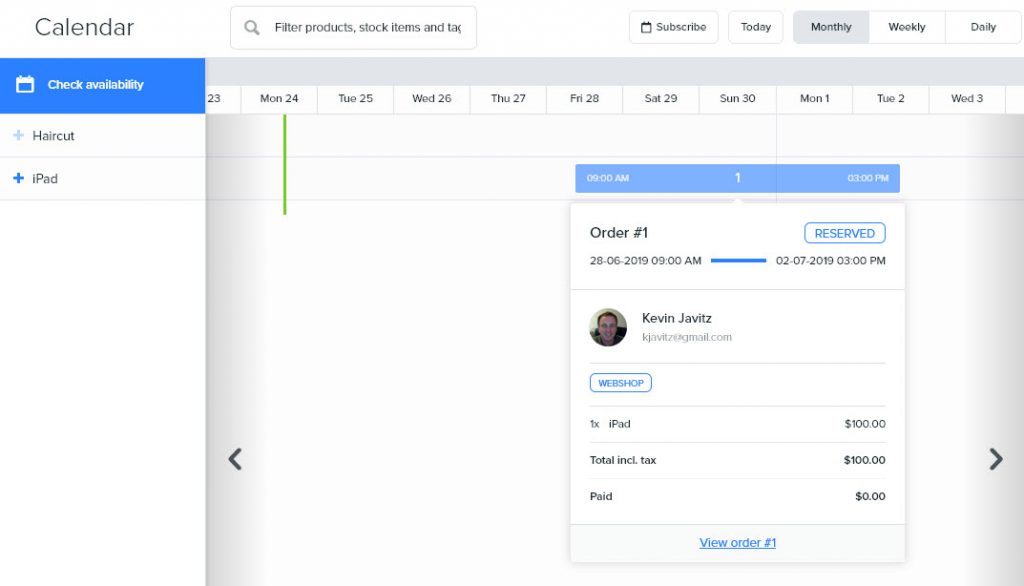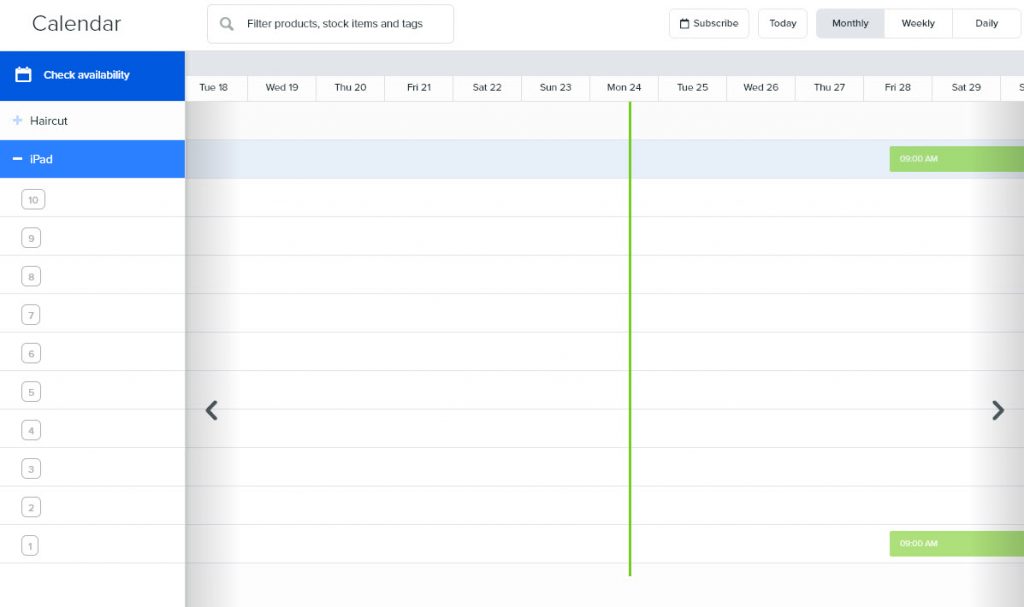 The ability to drill down by product and inventory item by day so easily is one of Booqable's standout features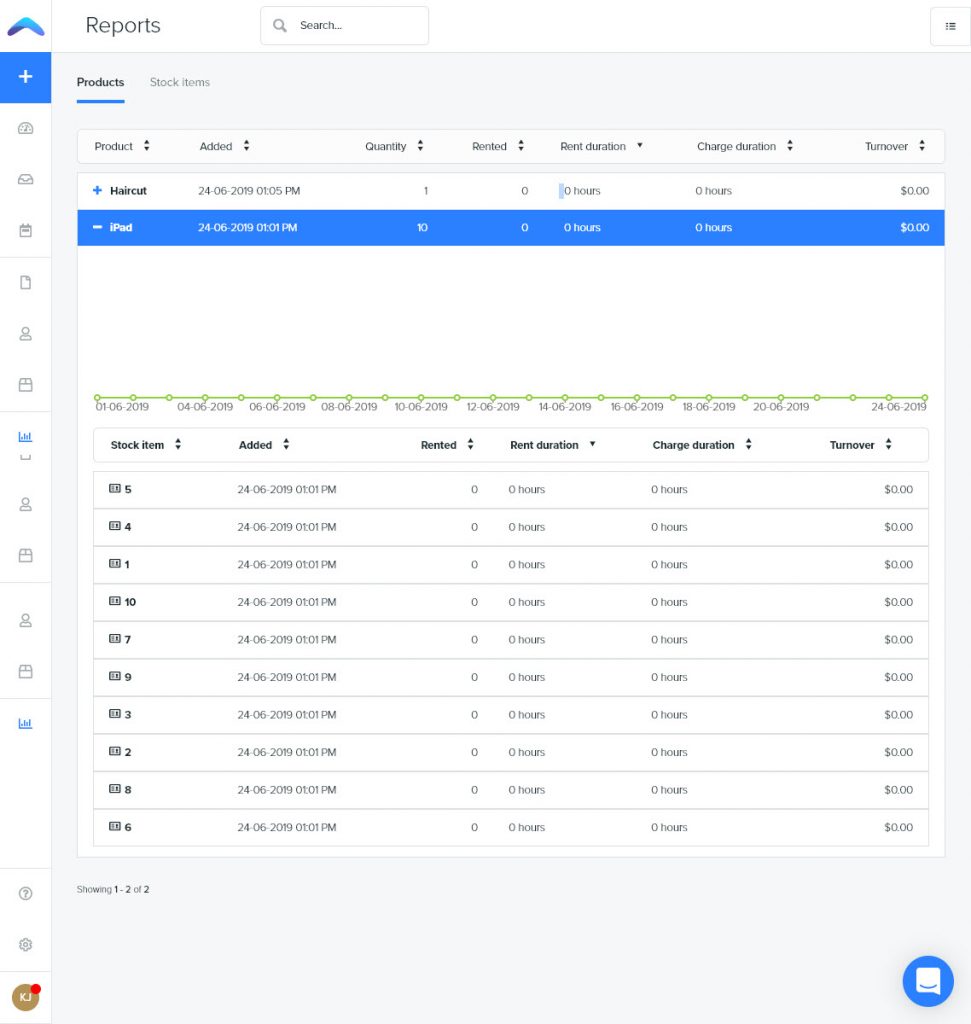 While very useful, the one report included with Booqable leaves a lot of other information you may want to see by the wayside.
Editing Emails
Editing Documents and Emails
The default document templates look nice, but are not very editable as far as the layout. You are allowed to add some custom CSS, and a custom footer.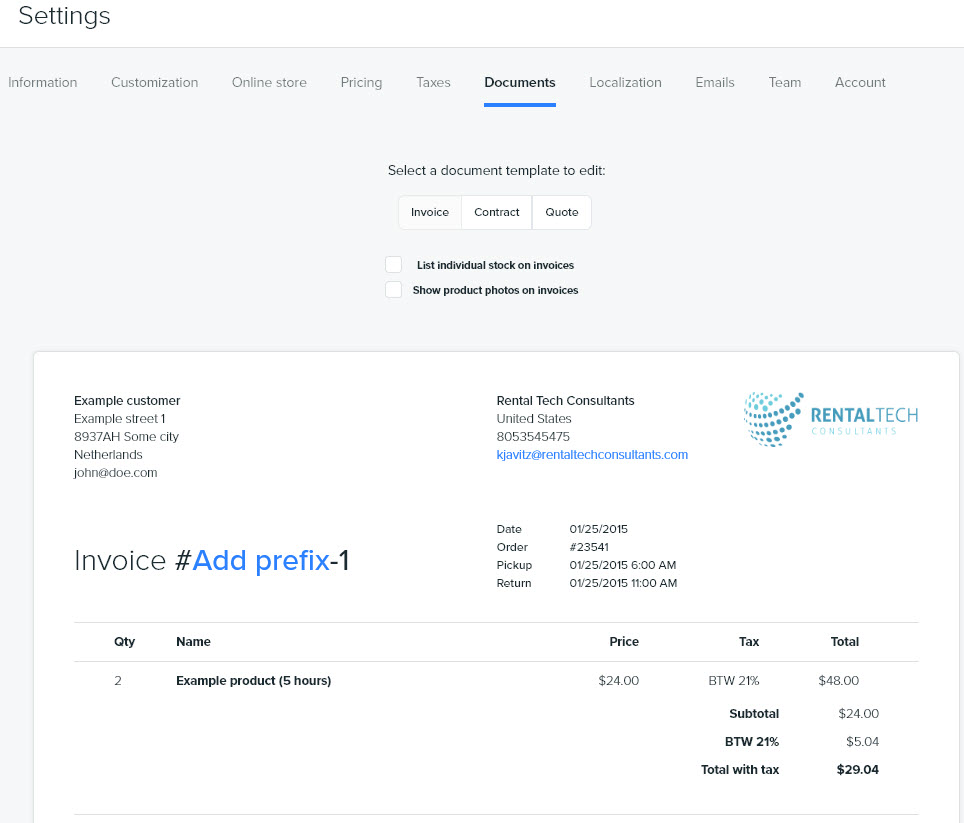 The email templates on the other hand seem to be fully editable:
API
API support is included on their Pro plan ($95/month) and higher.
Mobile Apps (iOS and Android)
No mobile apps are provided by Booqable.
Documentation and Support
The documentation is adequate.
We did ask a few questions to support and got answers within 1 hour.
Training
Their website lists a setup expert for a $79 fee to help integrate Booqable to your website. We did not see anything mentioned about other training besides it saying that on their most expensive plan you get a dedicated account rep (does not say that means one on one training though).