Overview
EZ Rent Out is a great "everyman's" Rental Software it will meet the needs of many rental businesses. Using EZ Rent Out in general is a pleasant experience we could find most features and settings without looking too hard. The menus and buttons are laid out in a logical way. EZ Rent Out is a Rental Software that we can recommend to our clients without hesitation.
Things We Like
Very powerful order creation and management features including charges for damages, barcode and credit card scanners, and saved payment details
Admin does a good job of showing relevant help and documentation without having to leave the screen
Powerful multilocation features and a wide variety of reports
Lots of reports for all aspects of running a rental business, seems EZ Rent Out thought of everything
iOS app does what it should
Things We Think Could Be Improved
No warehouse inventory processes management that we could find such as updating where in the warehouse an asset is located or truck management for deliveries
Webstore is not very flexible for laying out sub-menus and the calendar does not block out availability or give good error messages for products that are out of stock
Bundles are not very flexible they require setting specific assets rather than a product and auto-selecting an asset that is available
Route planning is not very useful at this point, though it is said to be in beta
UI is functional but not very appealing
It seemed odd to leave out features such as buffer/padding around rental dates and minimum/maximum rental periods
Pricing
The pricing is very clear on their website. Compared to other Rental Software we would say the pricing is mid-level, not inexpensive but not overpriced. We would prefer if they included the webstore on their base package as isn't that a pretty basic feature that everyone needs? Most people will probably want the $225 Premium plan in order to get that feature.
Dashboard
The main dashboard of EZ Rent Out looks like this: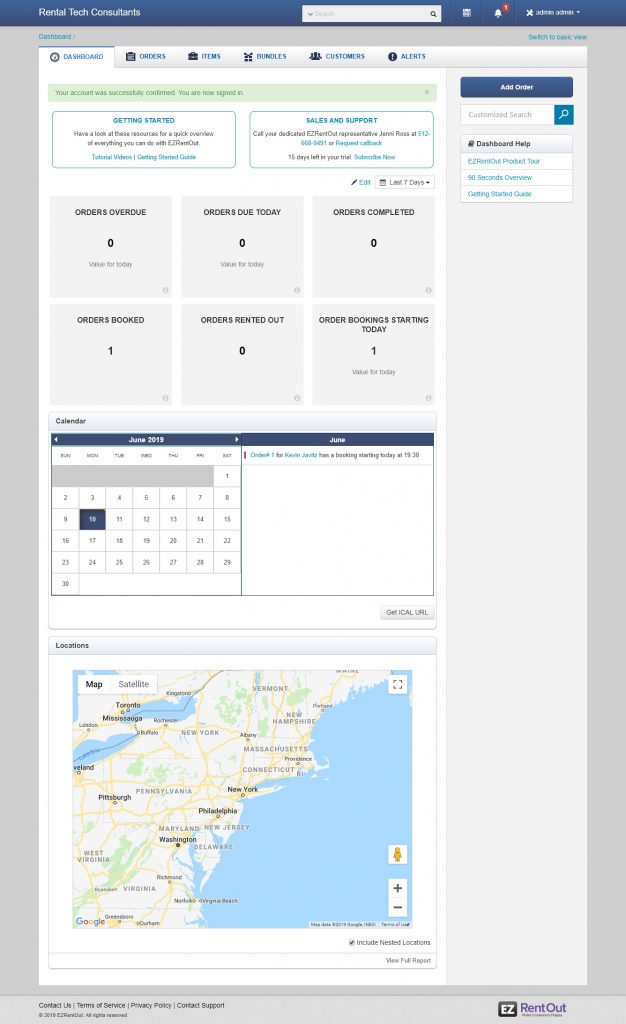 It is fast to figure out and presents relevant order data and the top menu shows the main links without being cluttered. Clicking orders starting today or the top boxe takes you to the orders grids filtered by today's orders. The Calendar is a nice feature being able to click by day and see that day's orders as well as offering an ICAL url that you can plugin to your calendar app. The locations did not populate I'm not sure why.
Edit Product / Product Pricing
Adding products is divided up into adding assets or asset stock. The placeholder image they provide is helpful to understand what each represents: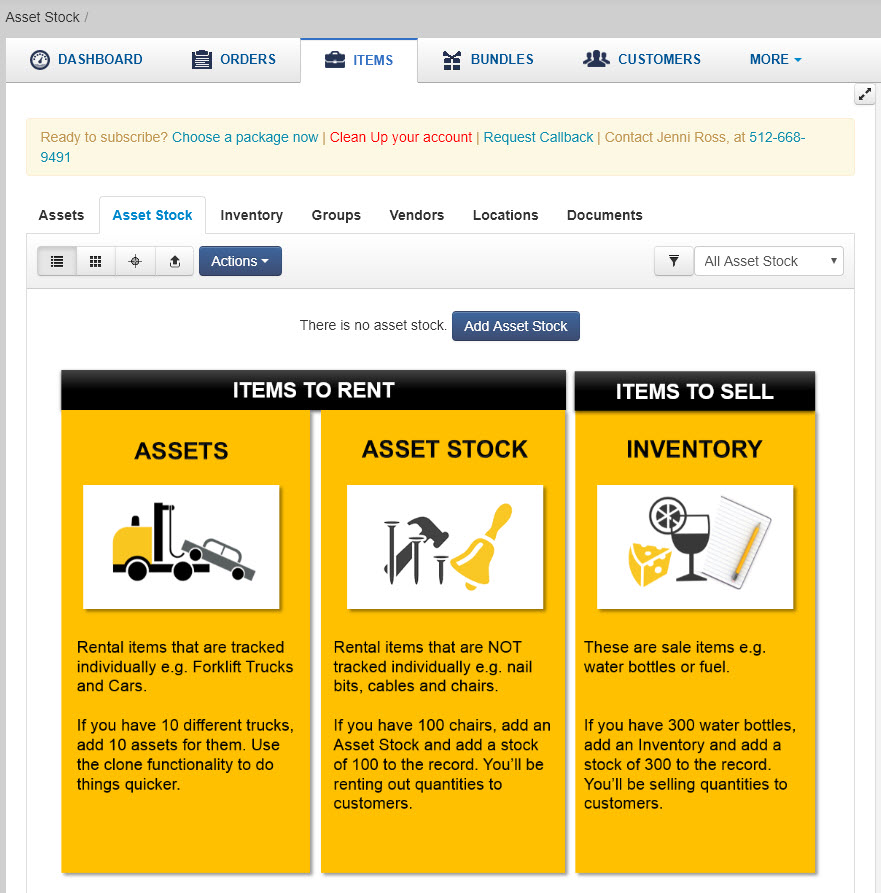 Adding an asset was fairly easy, I first added it on the following screen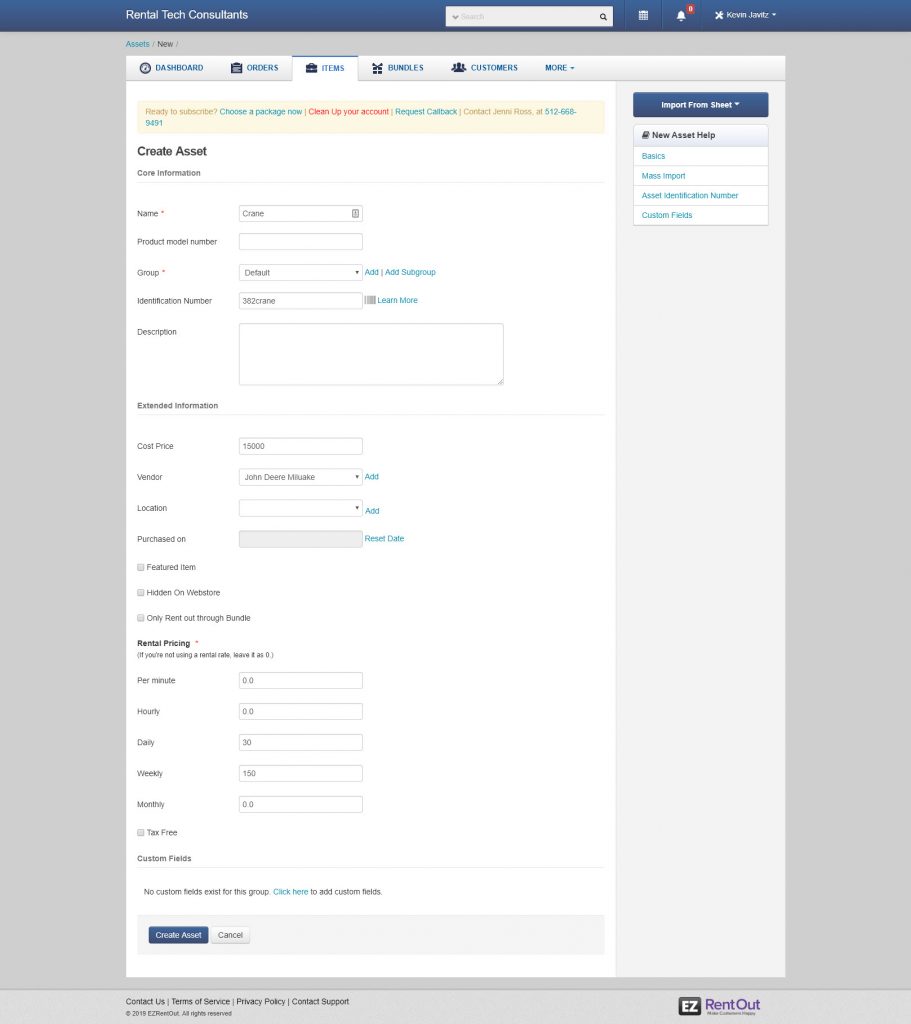 It was not immediately clear what "Groups" was – after more investigation it seems that it is a way to categorize products. We are not sure why "Group" is chosen over "Category" which is what we are used to. The Rental pricing entry is extremely basic, we assume that we'll find ways to do more advanced calculations using the rules when we get to that later.
We also did not see settings for commonly used fields of Minimum and Maximum rental period or Buffer time meaning how long before and after a rental reservation should time be buffered to allow time for cleaning, maintenance, shipping/travel time or restocking. I searched the documentation for "buffer" and "padding" and "minimum" to see if it is added as a rule but could not find this information there.
Barcodes
Barcodes and labels are well-handled in EZ Rent Out. You can choose from a wide variety of label formats, and there is lots of documentation to help you through this process. After adding assets we checkboxed a few and clicked the label button and it showed a nice PDF with some QR Codes

Online Store
So how might your customers book online for your EZ Rent Out based rental system? Here is the main homepage of the integrated store: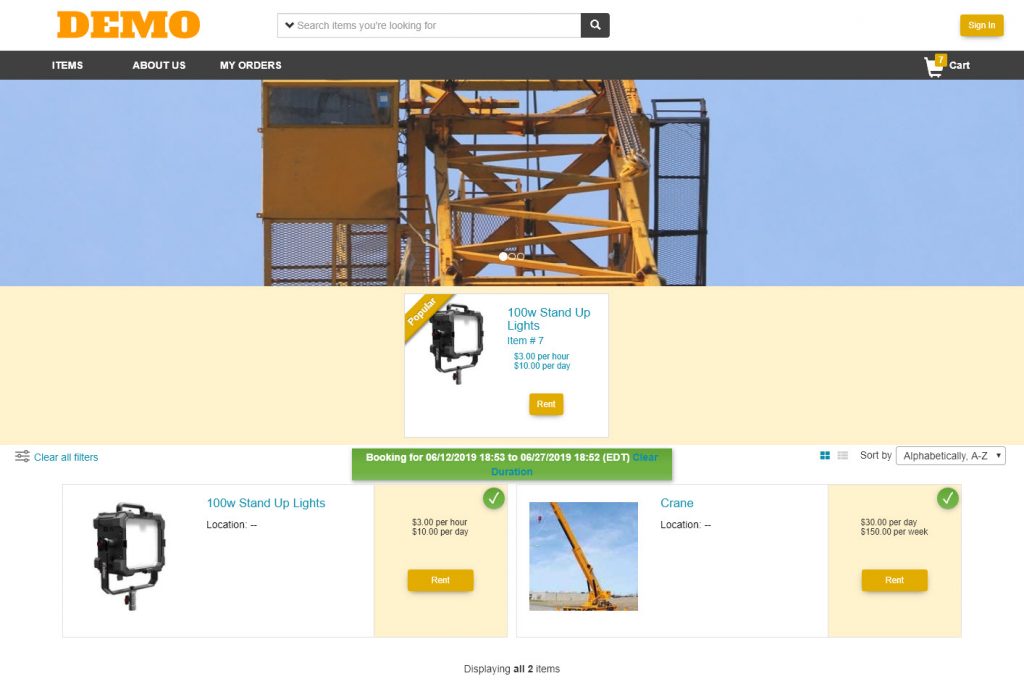 The online store is setup quite easily, however it does leave a bit to be desired. Here is the product page: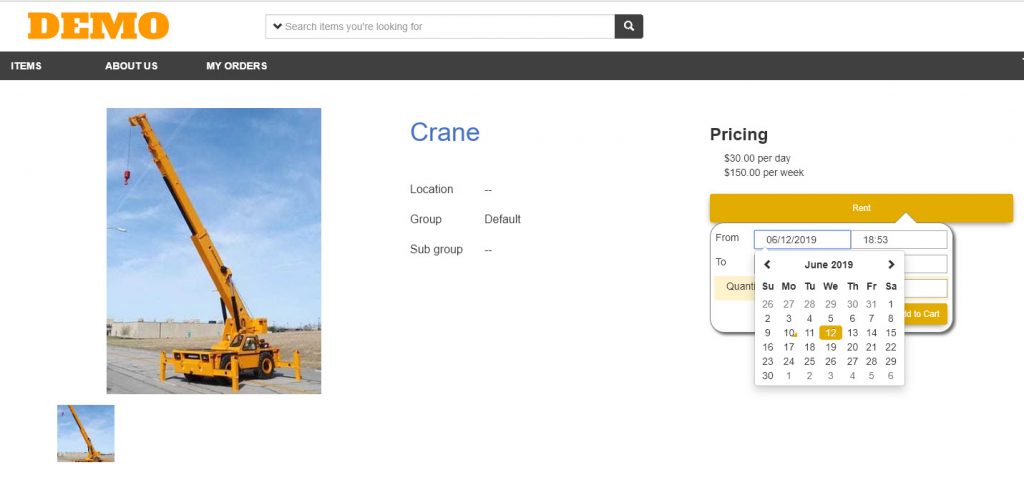 Immediately what struck me is that there is no way to categorize products, meaning that everything seems to be grouped into a big category. I contacted support as in their documentation it shows product categories, but it is not in their documentation. their support response was quick early the next day I got a reply that yes groups can be used like product categories.
I added 6 cranes to the cart, and for some reason it shows each individually instead of quantity 6 like I would expect, this is probably because they are assets, but still it seems strange: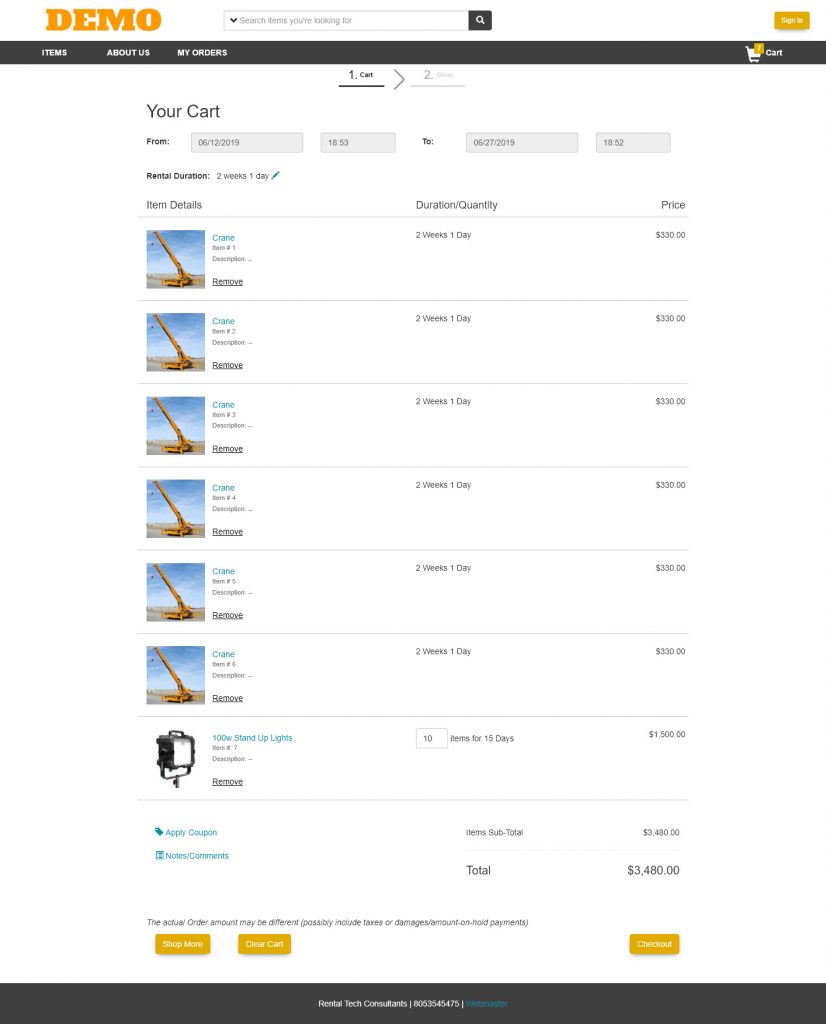 When I clicked checkout there was not way to create an account, instead it presented this popup:

So I went to the settings in the admin panel to try and enable customers to create accounts, and searched the documentation as well but I could not find out how to do this, so again I contacted support, there must be a simple way to enable this.
Another concern I had is that the popup calendar on the product page does not blockout dates that are not available because of previous rentals. Rather you have to choose the dates then click rent to see an error message. It would be nice if the unavailable dates were blocked out, or the error message was more verbose telling you when the product would be available.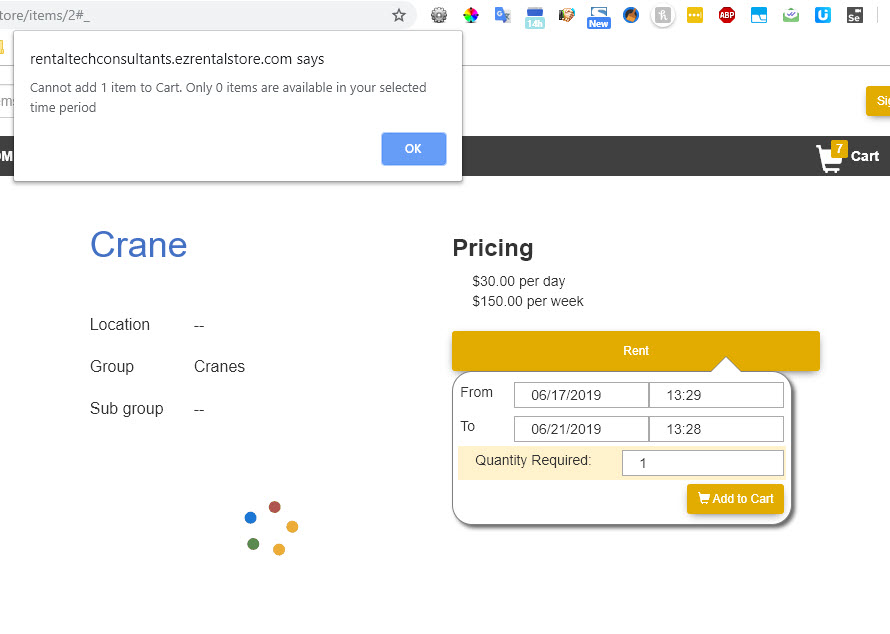 Adding A Bundle
Adding a bundle is done like this: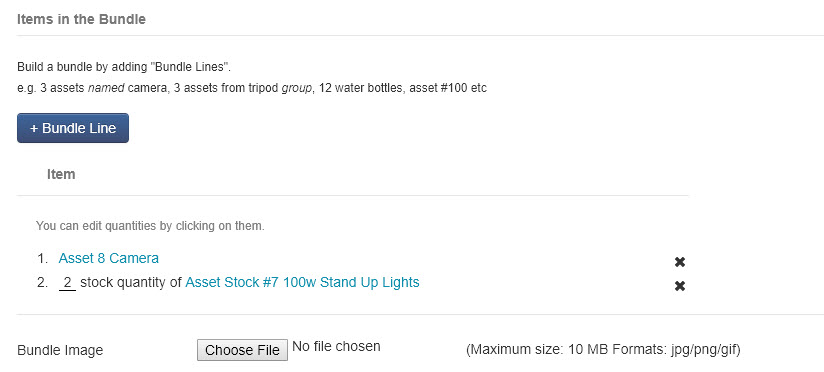 What seemed strange here is that when you add assets to a bundle it did not show a way to choose a general asset, so your bundle can't auto-select an available asset if you have say 6 of the same item. This to me seems it will cause issues with availability if you want to just choose any asset that is available of the same type rather than 1 particular asset. Again I will contact EZ Rent Out and see what they say about this but it seems like a limitation right now.
After I added the bundle I was expecting to be able to see it on the web store but I could not find it anywhere, again I had to contact support to figure out what the issue was.
Admin Panel
The admin panel is fairly basic as far as being able to add pages or edit content. You are able to add custom pages and edit them and insert images if you want. The menu does not seem to enable a drop down for making multi-layered menus. It also does not seem to have a way to add product categories as menu items. Here is what editing a web page looks like: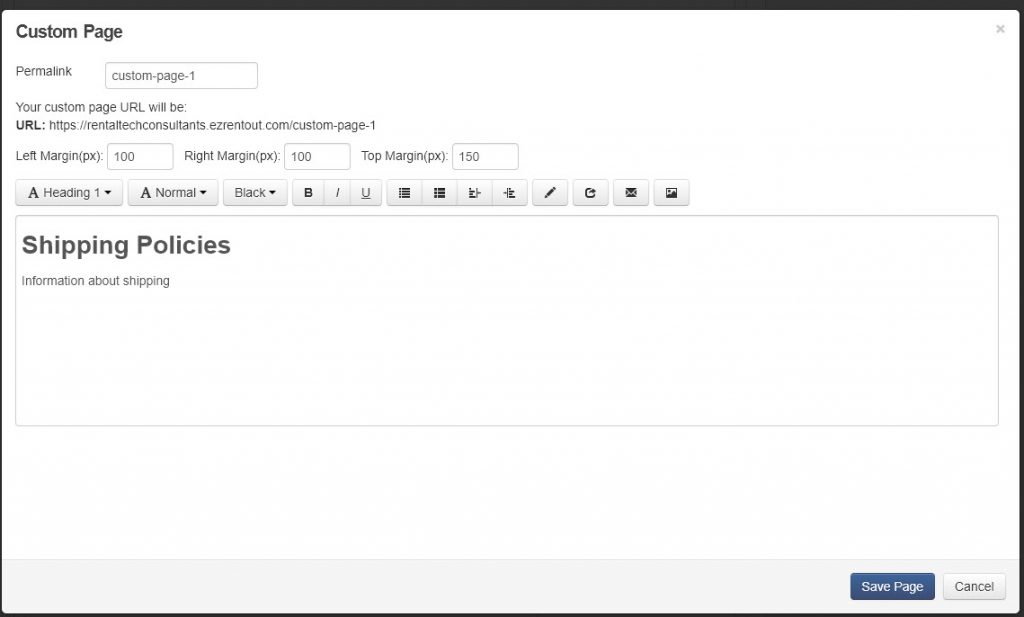 Apparently images can only be inserted via url which is not as nice as if you could browse and upload images.
Order / Point of Sale
To create an order first you select or add a new customer and then you are taken to a page like this where you can add items to the order. I've added the 6 Crane assets to an order: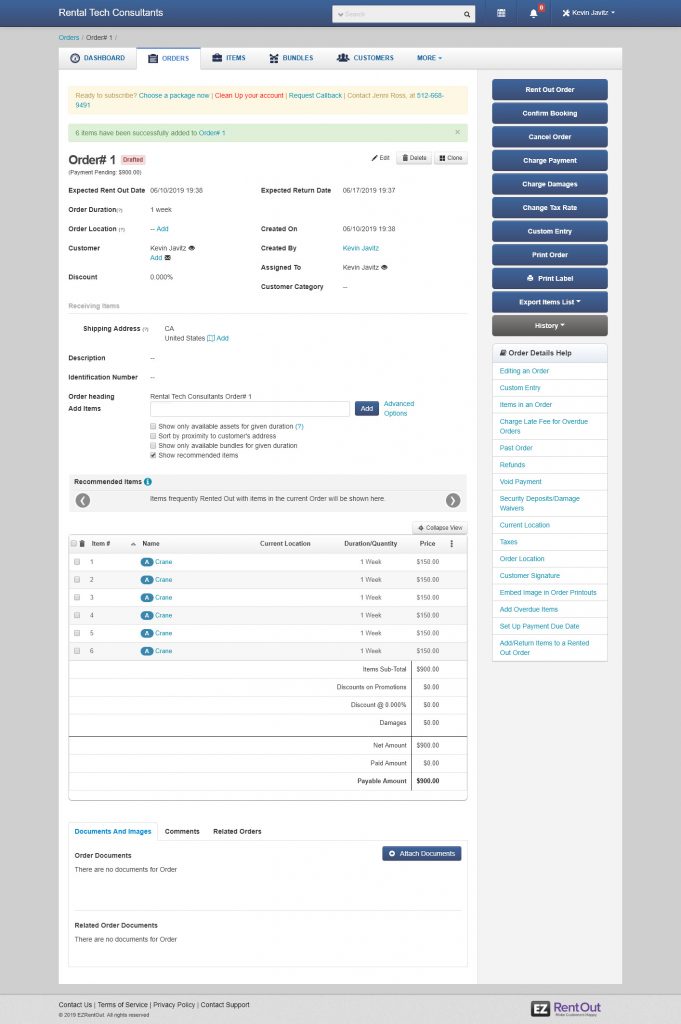 The add order page has a lot of nice features on it such as frequently ordered together box to add those items ordered with that product usually, fast ways to charge payments, confirm order, and mark checked out. The custom entry button is also useful to add custom line items to the order which is common for rentals.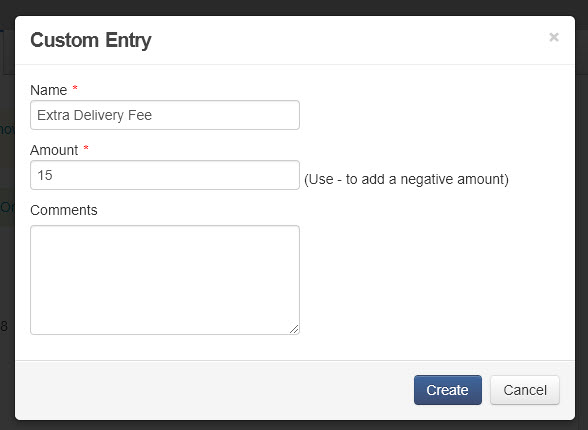 And a charge damages that allows adding a similar type custom line entry where I tested adding something and this is how it affected the order sub-totals:

Coupons and Rules
Rules and coupons are what EZ Rent Out uses to make more complex pricing rules for the store, for example if you want to have seasonal pricing, or give a discount for rental orders of a certain length. To test it I setup a rule for orders from July 9 – 17 first: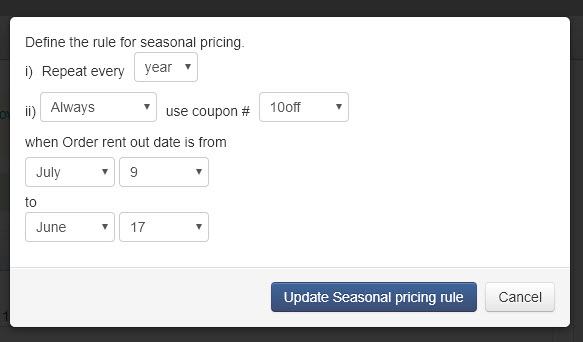 After that I added a coupon to apply a 10% discount:
Everything worked as expected after adding the product to the shopping cart for the specified rental dates, it did apply the 10% discount: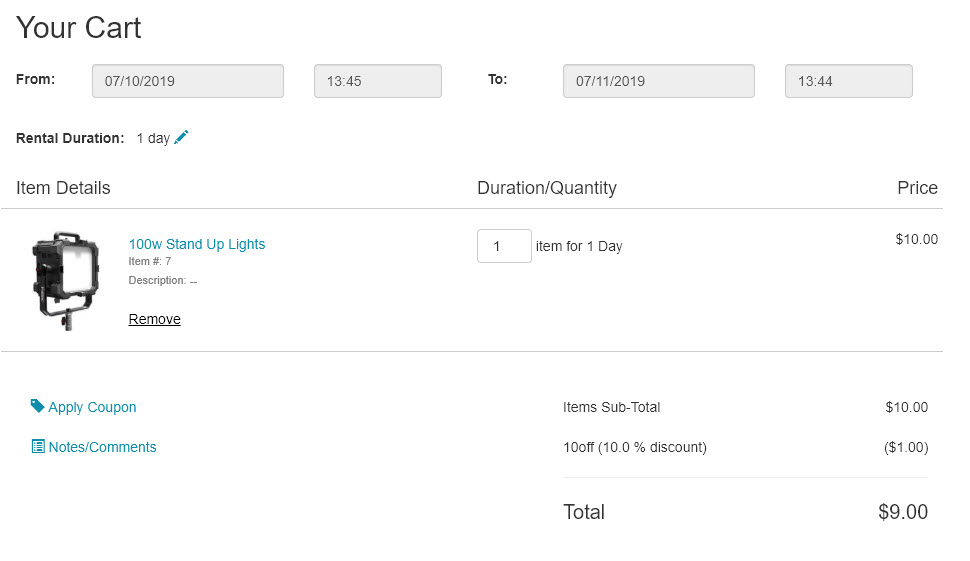 Reports
We'll start off the reports section with the most used report for any rental store – the inventory report: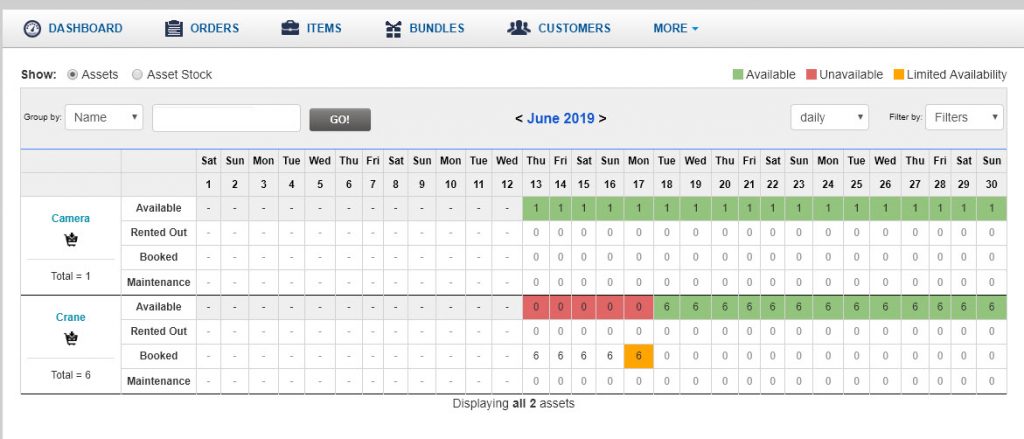 The report is good and has a broad overview of inventory. I used the different filters and unfortunately it does not have a way I could find to drill down by individual asset to view its availability, nor was it possible to click a day to view what orders were tied to that asset.
Locations
Locations are extremely useful and easy to use in EZ Rent Out. You simply enter in your different store locations and then you can tie your products to stores. It even records and easily transfers assets from one location to another, and almost all reports have filters by location.
Route Planning
Route planning at this point is not really worth mentioning as a feature. All it does is show a few selected orders on a map. It does not do what a route planner needs to do such as add orders to trucks, update order status as the trucks deliver the orders, or update delivery drivers with messages. Here is how it looks, and this is everything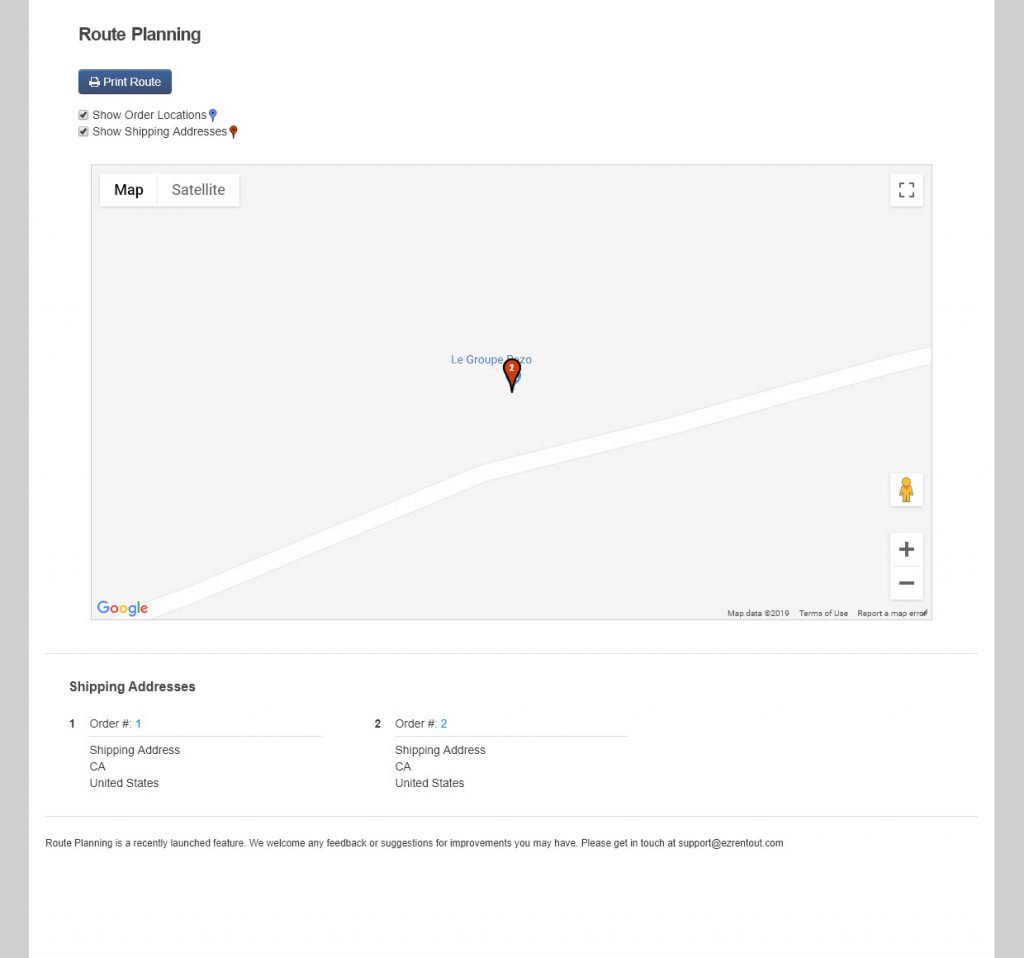 Sub Renting
Sub Renting is very unclear how it works, the only documentation is here: https://faq.ezrentout.com/faq/how-do-i-track-labor-delivery-service-or-technician-chargers-in-orders/ we were able to add a sub rental to an order, but it was unclear what the process is supposed to be after that.
Mobile Apps
For the mobile app we downloaded their iOS app from the store. The iOS app basically has the look of a web browser without the nav bar. When we loaded the app it has available the following menu items: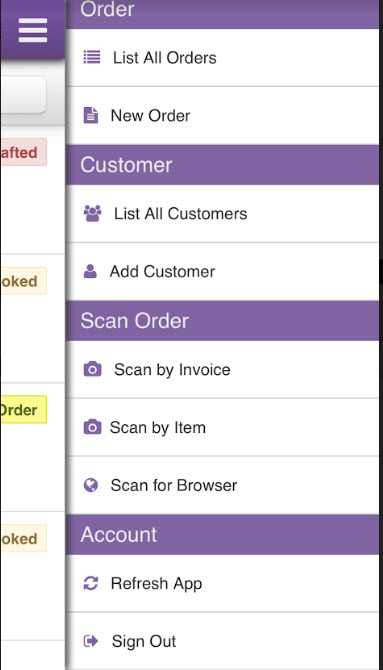 We were able to easily create an order and quickly using the iOS app on my iPhone 7 plus. I clicked to add items to an order: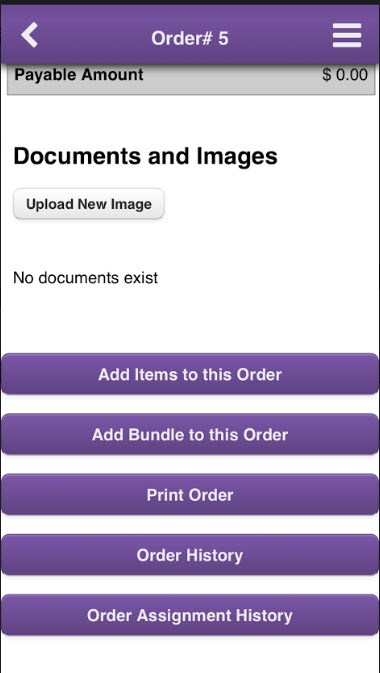 After that it opened up the camera and I was able to scan the QR code. For some reason the first time I tried it the app crashed. So I restarted the process and the second time it worked without crashing. I'm not sure if the app has a bug or it was just a random glitch. The item was successfully added to my order and I confirmed the order.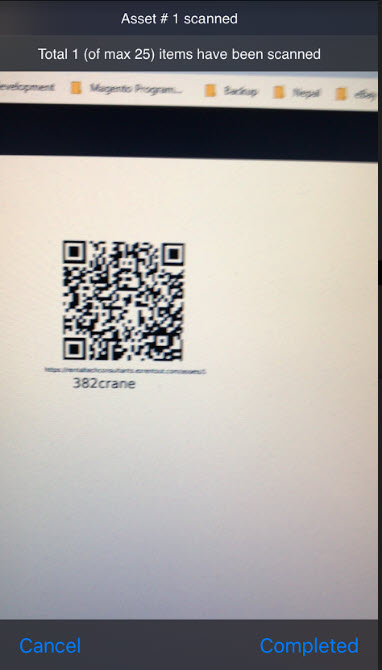 User Interface
The design of the user interface is not beautiful, but it is easy to use and functional. It is clean enough and you can usually find what you are looking for fairly quickly, especially on the create order page. Some of the other pages such as Settings > Add Ons are extremely long and could perhaps use some more tabs or categories so you can find what you are looking for more quickly, or even better yet a search feature. I got by instead by using control + f for browser find to more quickly find the settings I was looking for.

The speed of the system is satisfactory pages feel like they load quickly.
Support (ticket, chat, phone, hours)
Upon signup you are assigned a support representative. There does not appear to be live chat support on their website, nor are their support hours listed. We do like that you are assigned a representative though so that they can become more familiar with your setup rather than jumping around from rep to rep everytime you need help. When you are logged in their is a menu item where you can submit support issues.
Training
It is not clear from the website the training policies – like how much is included if any at all, or if it cost extra. There are lots of videos though and documentation materials.