Overview
TapGoods Pro is more of a narrow niche type rental software specifically aimed at Party and Event Rental Companies. They are quite new to the marketplace (website lists them as starting working for rentals in 2017). The system is quite feature complete and runs quickly in a web browser. The user interface looks great and we really liked the menu organization allowing quick and organized access to every part of the system. The pricing however for TapGoods Pro is quite high. You are looking at $399/month to use the system without a product limit of 25 products plus using the online store. Not only that, but multilocation though listed as a feature is not included in that price. Each location must pay its own monthly fee. So if you are ok with this pricing, we can recommend TapGoods Pro.
Things We Like
Admin menu organization and overall UI is fantastic showing a good planning of this rental software
Most of the default settings seem good and no changes are needed
If you use a quote to order type process everything is built around that principle in TapGoods Pro the flow of the order is very clear
Things We Think Could Be Improved
Extremely opinionated on how your event rental company should run. If you don't use a quote to order to reserve inventory to checkout and checkin it may be hard to configure Tapgoods for you.
Pricing – it is very expensive to use ($399 a month) for their fully featured product which we think is really the baseline to run TapGoods Pro properly.
No API or mobile apps
Free trial requires putting your credit card
As already mentioned multilocation requires a license for each location which gets expensive very quickly.
Barcoded inventory adds $100 extra per month for more than 100 items, why? Seems very expensive and unnecessary – we'd even call it price gouging.
Dashboard
Here is a quick look at the dashboard. Like most rental software dashboard it has different ways to visualize your quotes and orders. It is nicely laid out and you can first pick what you are looking for and then the day of the week to check.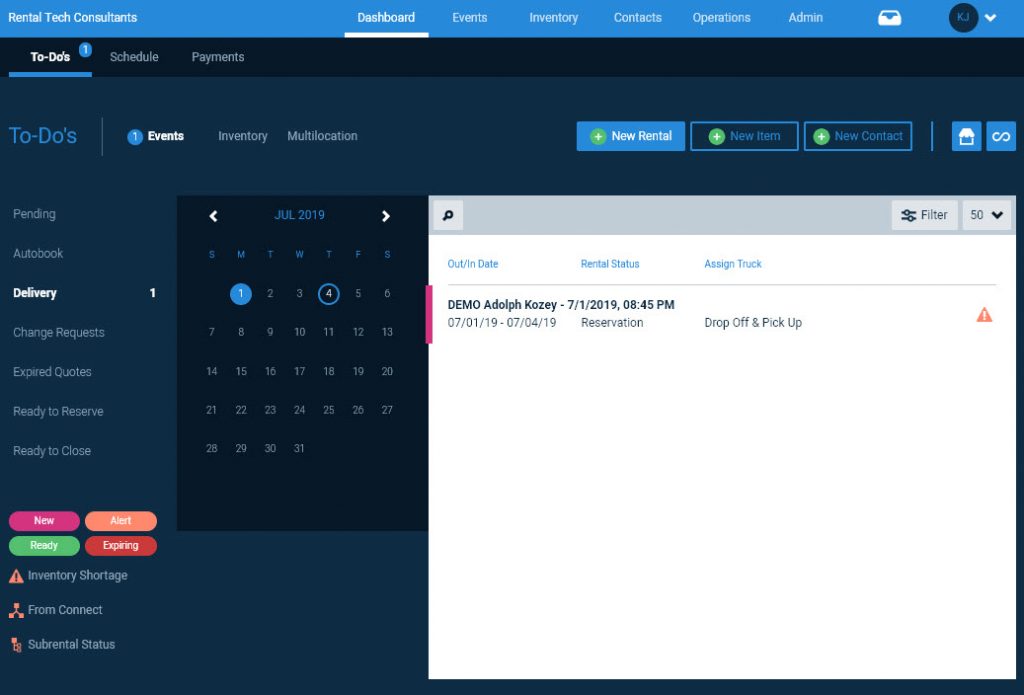 Add / Edit Product
Adding products or items is divided up into a few item types. You have regular rental items, accessories, bundles, and for sale / purchases.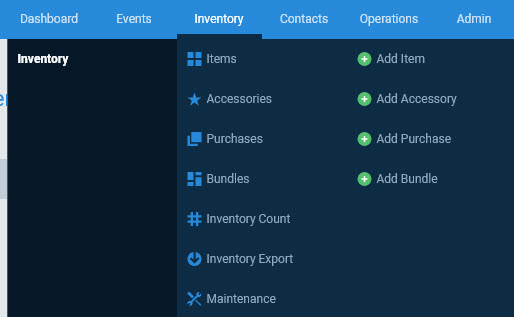 We added a regular item (rental)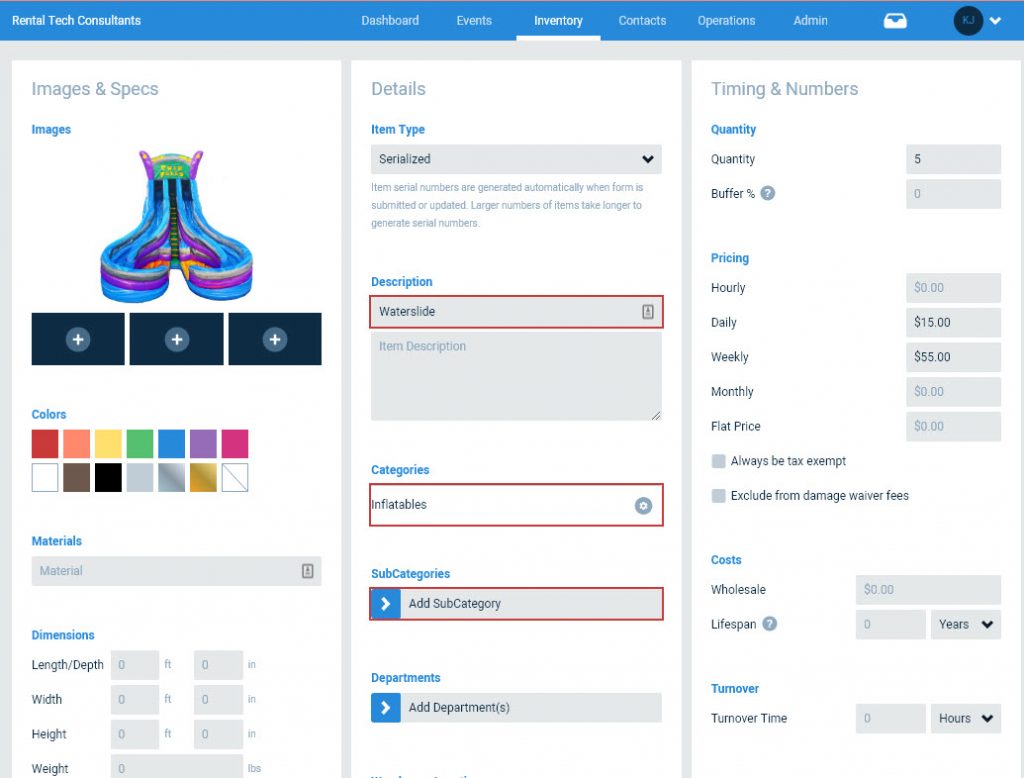 Adding products shows a 3 column grid that is organized quite well. You can select if you want to use regular or serialized inventory, the cost and lifespan of the product, pricing, etc.
One thing that seemed odd to me was that they do not allow you to add your own product categories. They have a premade list of product categories to choose from. But what if you don't want to categorize things the way it is already listed? Searching through the help section nothing came up, so I contacted support.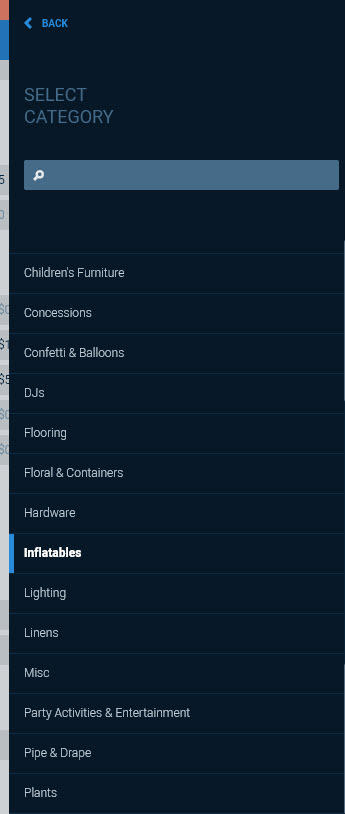 While adding products you are also presented with a way of tracking when inventory is acquired and by what supplier. This comes in handy later for the profitability reports or if you want to see where you purchased products. We did not find in the system a way to create purchase orders to send to suppliers.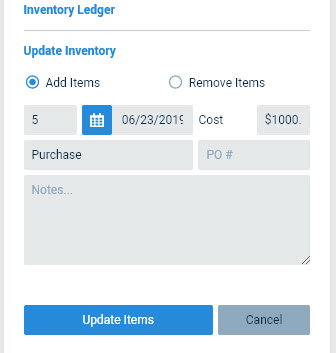 Serials / Barcodes
If you choose serialized inventory after you save the product the serials / barcodes will be generated, it seemed to work great: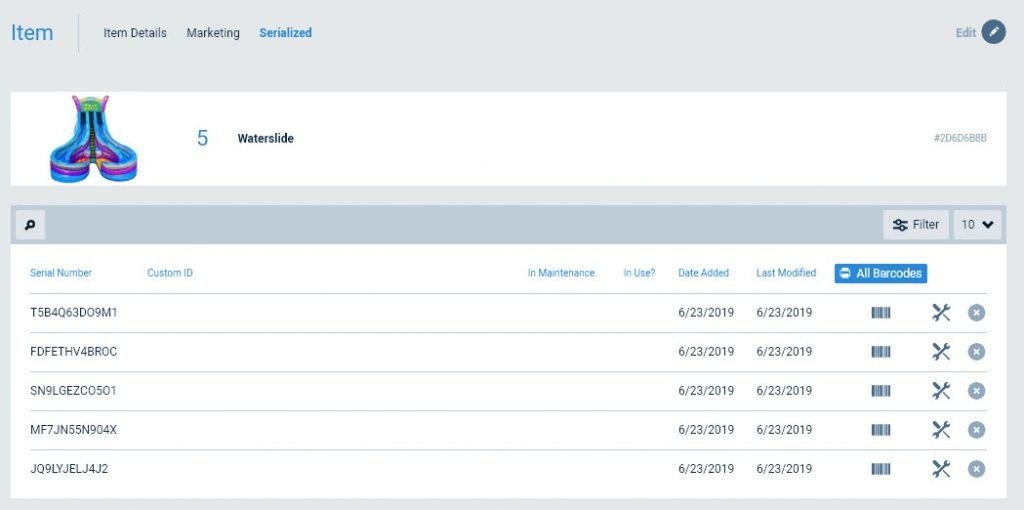 We could not find a way to print barcodes. You can export the barcodes to a CSV file which was very basic, just a list of serials: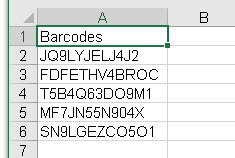 Online Store / Web Integration
The online store seems easy to use and is geared towards getting customers to submit quotes. As TapGoods Pro seems only made for Event Rental companies, the checkout process is definitly tailored towards that use.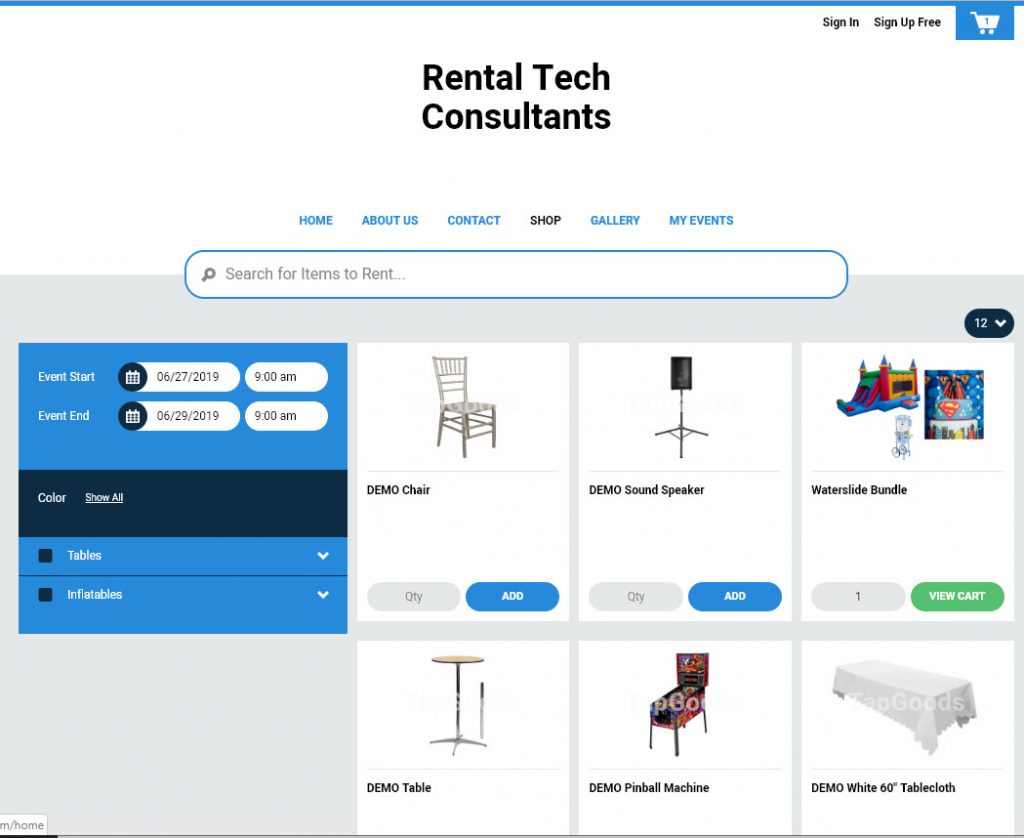 We noticed that if you click the ADD button that nothing happens unless you put in a quantity first. It would be nice to see a popup or message telling us to put in first a Quantity, or default them to 1.
Checkout process has these steps: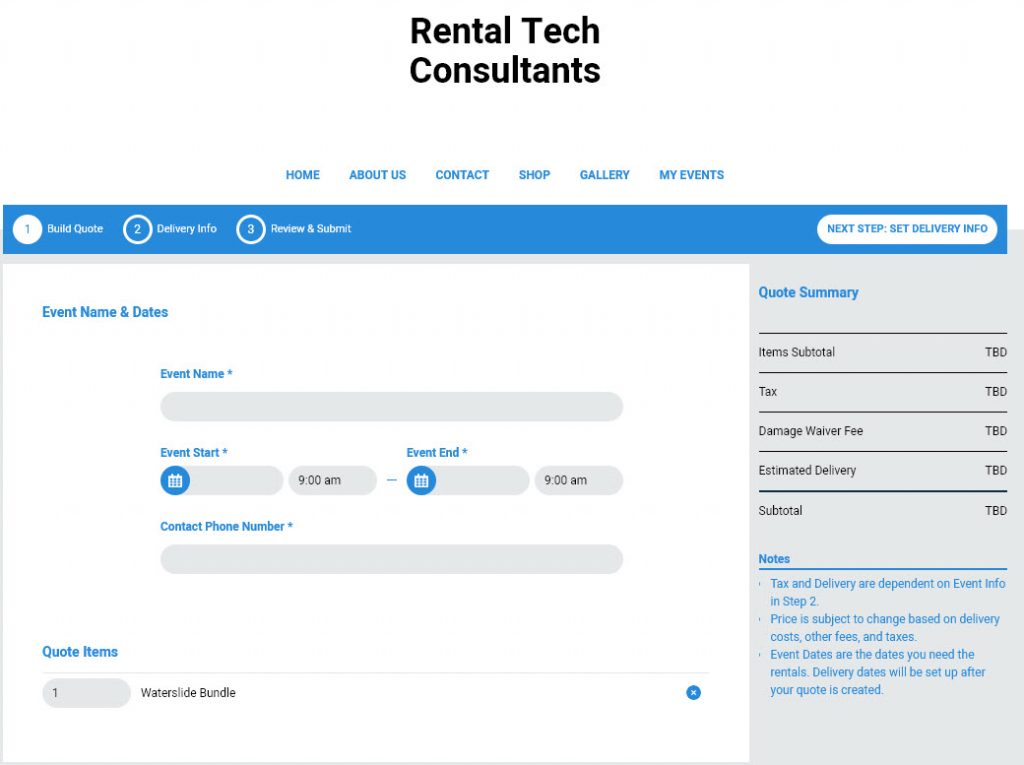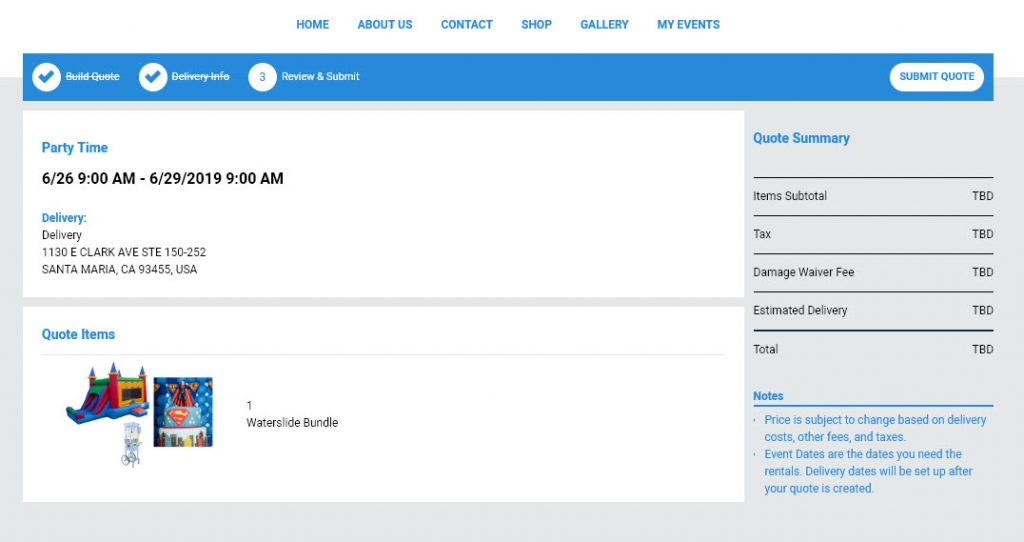 The admin panel as usual was quite easy to figure out for setting up the Online Store. Each product or item can be selected to be listed online or not.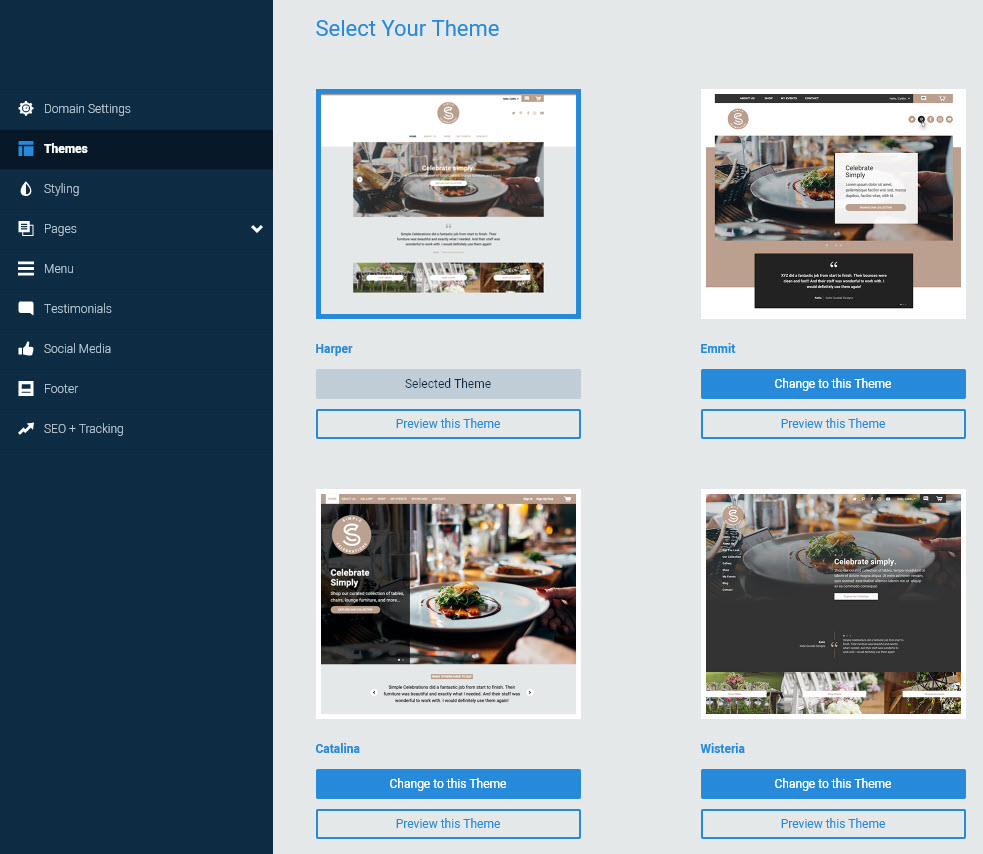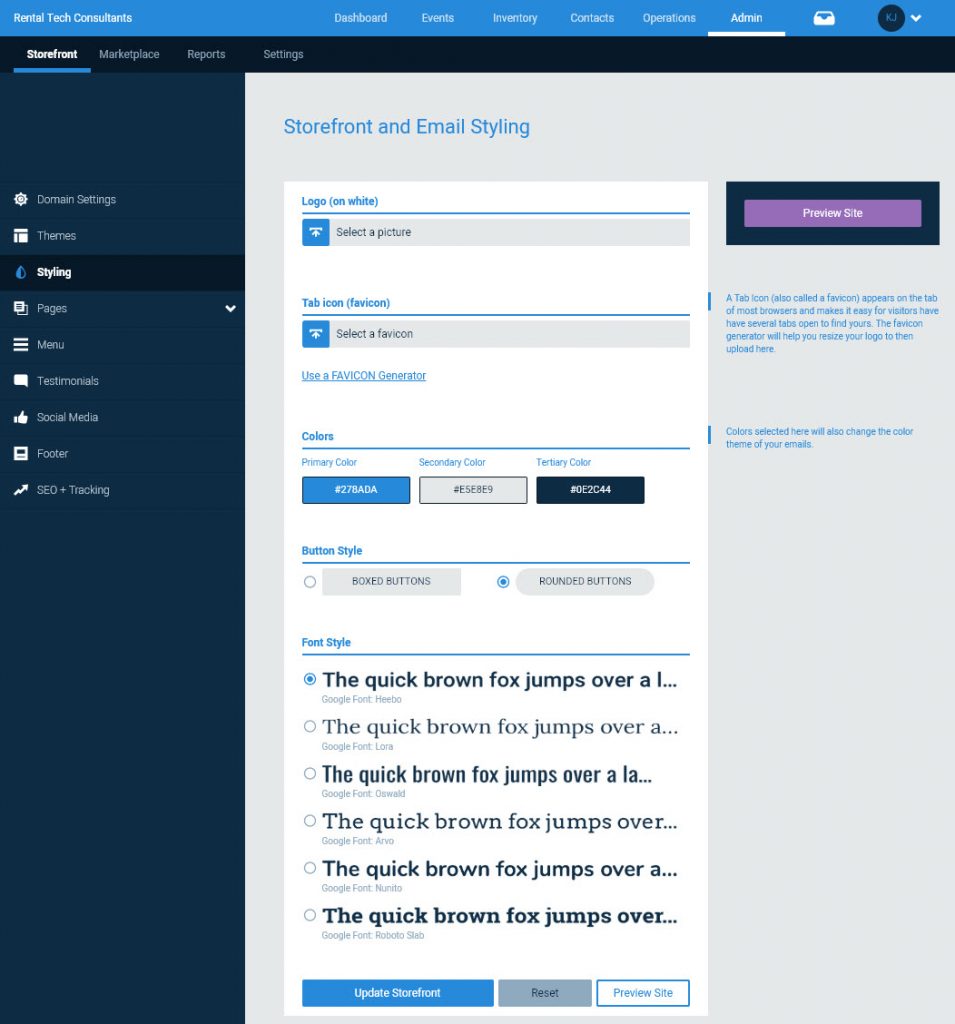 One thing curiously missing from the style settings is a way to set custom CSS styles – we have asked support if this is possible as when searching the help section nothing came up.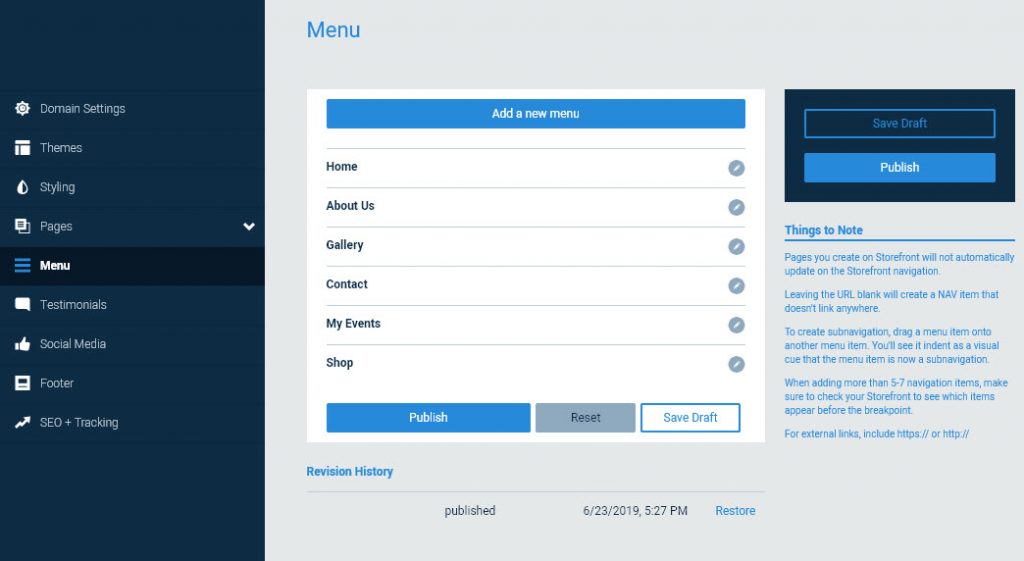 Quote To Order Process
After submitting the quote request the admin can view the quote in the admin panel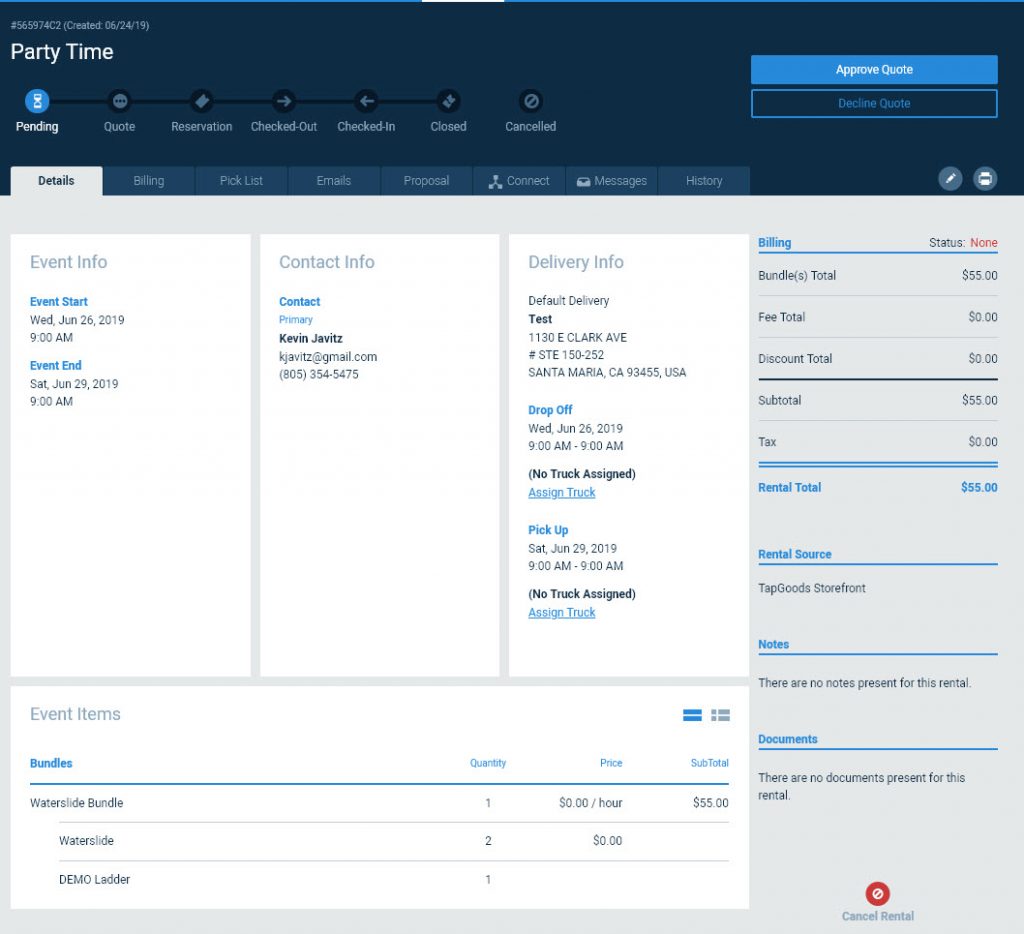 It has a nice tabbed setup for all parts of the quote and order and the timeline on the top is a nice feature to visualize what process it is in. For some reason though the bundle pricing did not auto-calculate properly. I had entered in a daily rental price for the bundle and the quote was for 3 days, but it tried to take the non-existent hourly price. So I went in and manually set a price of $55.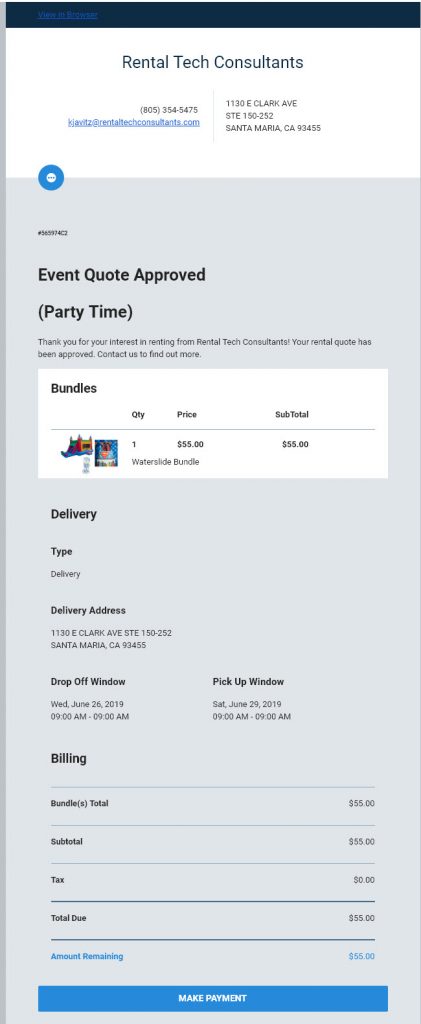 After submitting the quote the customer gets an email like the screenshot above which allows them to review it, accept it and make a payment.
After that the order can be reserved and then checked out and checked in. As you might expect the check out has a place to confirm each item being checked out, and it does show warnings if you check out an order but there are still items not added to the checkout screen.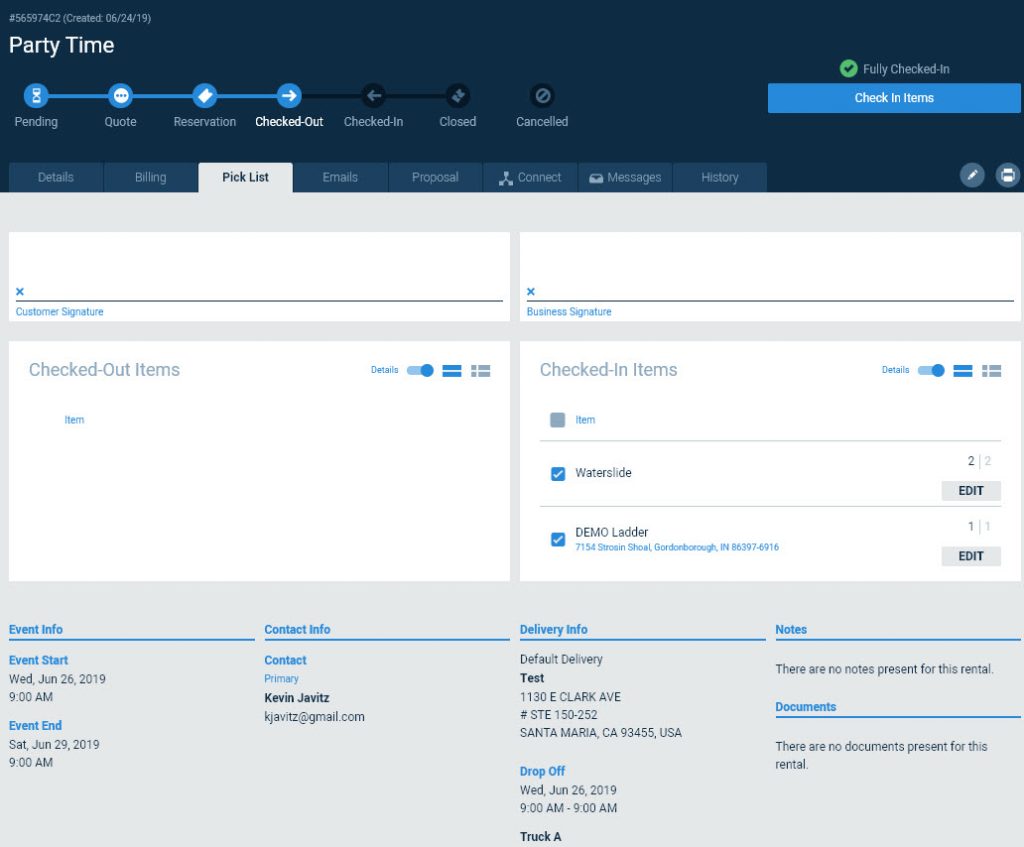 Route Planning
Route planning seems well executed and has exactly what is needed. You have a map, a way to add trucks, and a way to visualize what orders are assigned and what orders are not with easy color coding. It took only a few seconds to understand how it works and start assigning orders.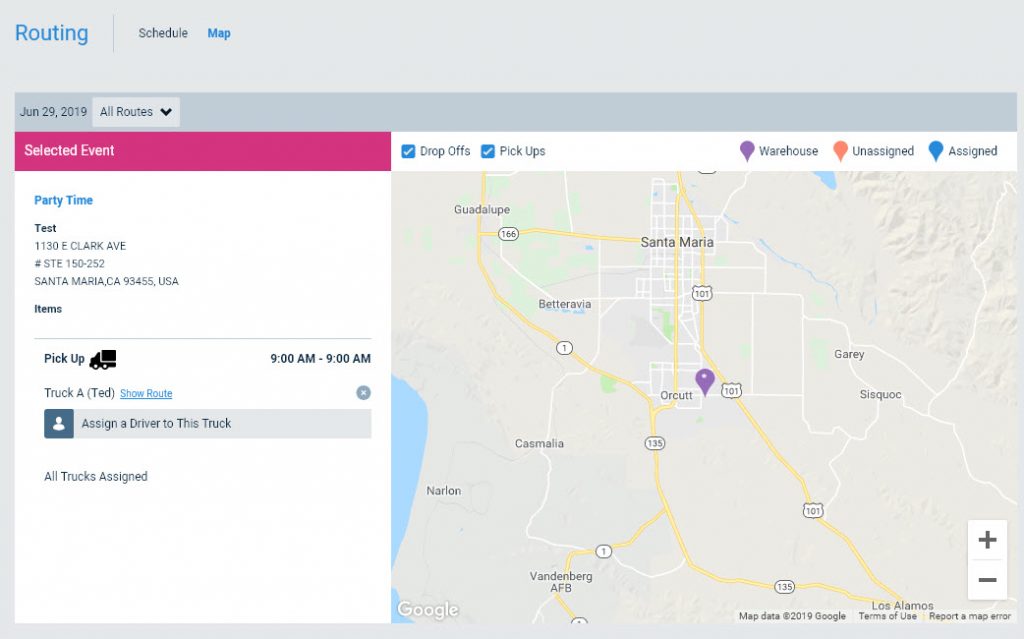 Reports
The reports includes revenue, payments, sales tax, profitability, best customers, documents, staffing, and popular items.
The first report we always check is inventory – after all inventory is at the center of any rental business. Here is what it presented: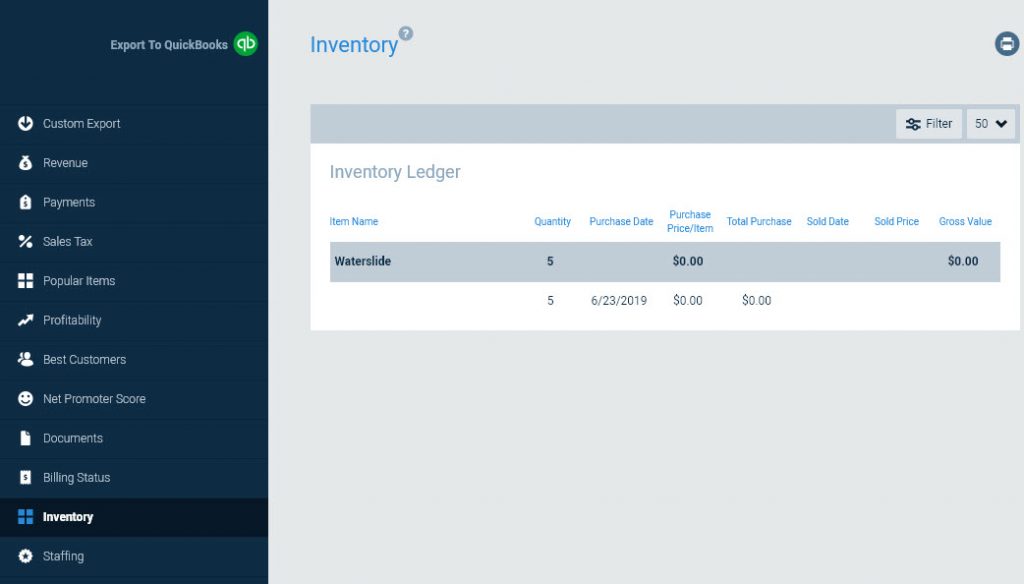 This is not at all what we were expecting to see for an advanced rental system. Where are the day by day breakdowns of inventory levels? Or a way to view by serial what is reserved and what is not? Fortunately if you go to an individual product you can find this information, but that would be very time consuming and doesn't give you a birds eye view of what is happening.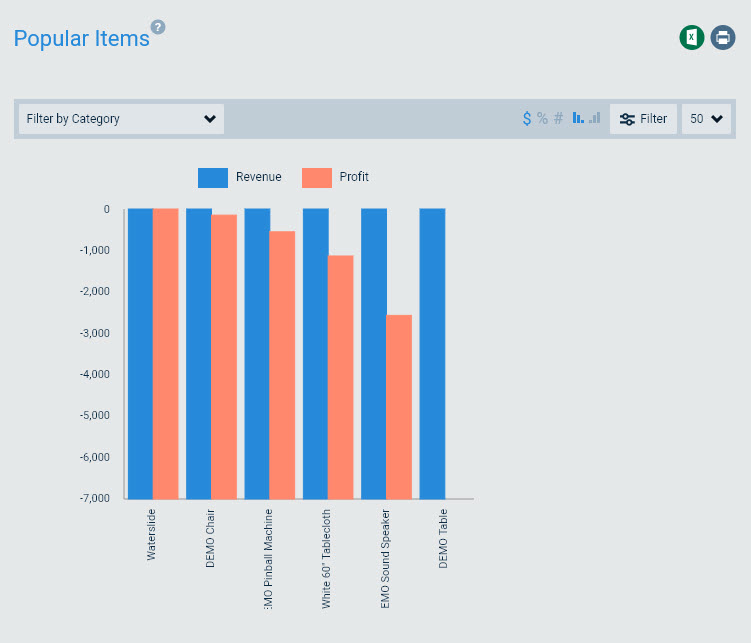 The popular items report has a great visualization of the revenue and the profit from each item you are renting out.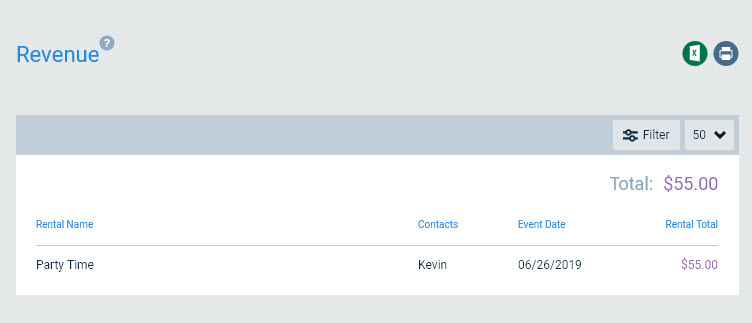 Rental Settings
Here is a view of what settings can be modified: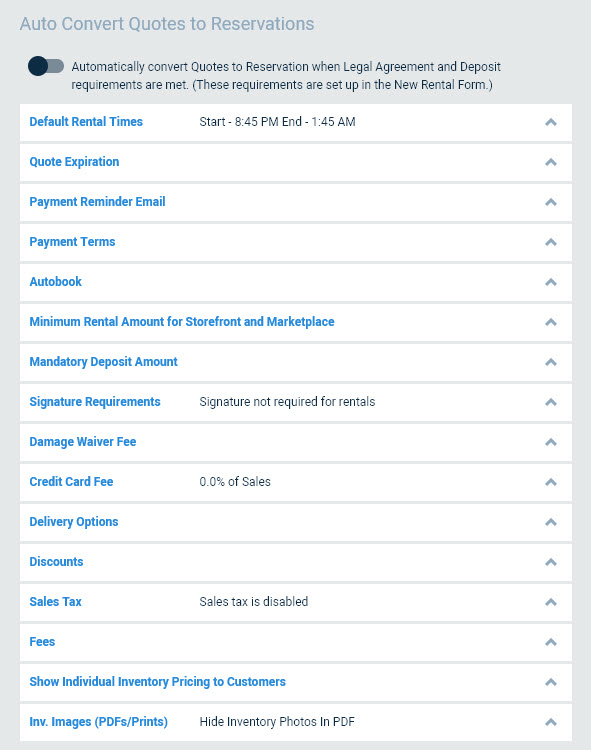 Email Editing
Email editing is fairly straight forward. It has a setting as well for how many days before the event to send the email.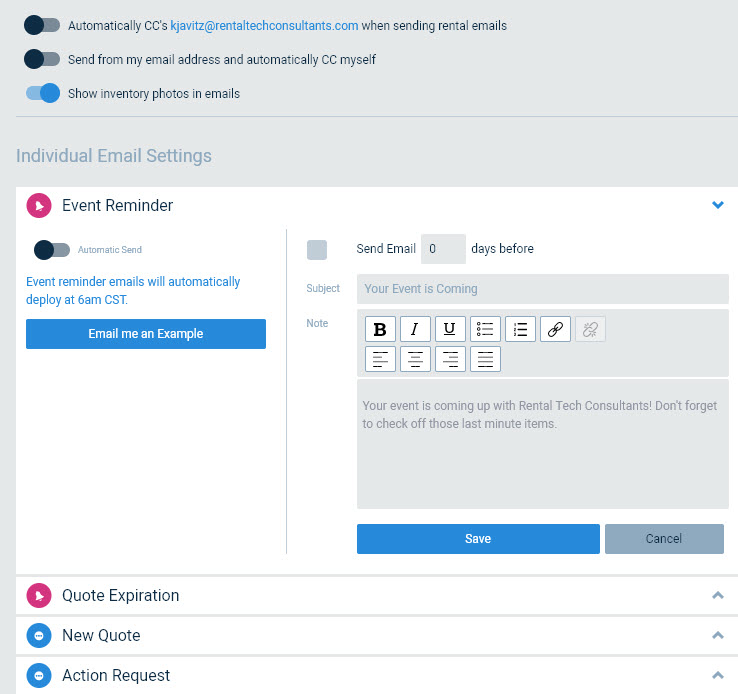 Standout Features
One of our favorite parts of Tapgoods Pro is how well the admin menu is organized. You can quickly hop around to what you want without having to waste time. Checkout how they have it setup, we think you'll agree: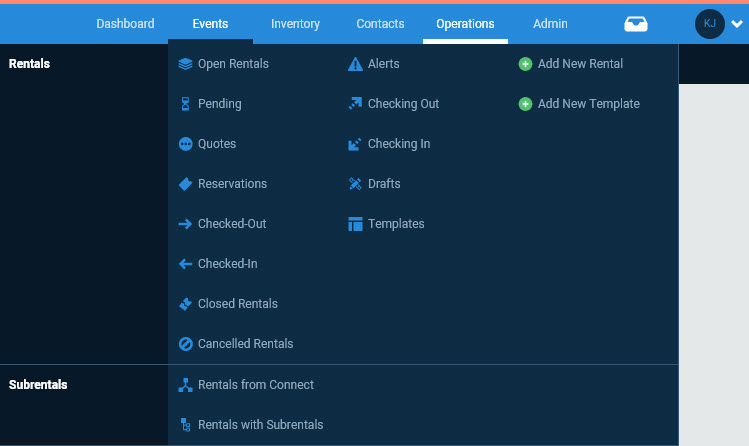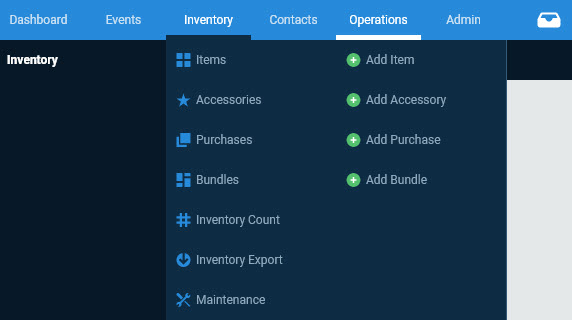 The messaging and email tabs of the quote/order page are also nicely done. It has an easy way to track messages between your staff and with the client. You can choose from any of the email templates and re-send it or check the history for the order and emails.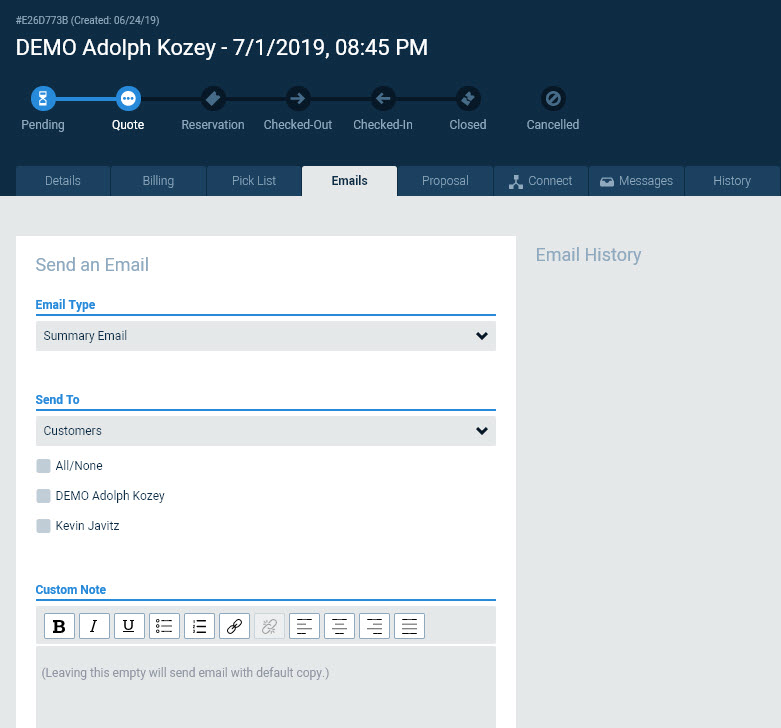 Mobile Apps (iOS / Android)
At this time TapGoods Pro does not have iOS or Android apps available.
Documentation and Support
The documentation is a bit on the lite side but adequate. Docs can be found here: https://tapgoods.zendesk.com/hc/en-us/ the good thing is that most things in TapGoods Pro are not that hard to figure out because it has a well-though out layout and user interface.
Support is via support tickets submitted through their portal.
Training
A free demo is offered. With the $399 plan Video Conference support (could be thought of as training) is also included.